Silk, polychiffon, or something else? Read about our scarf fabric options and find the right one for your art and budget.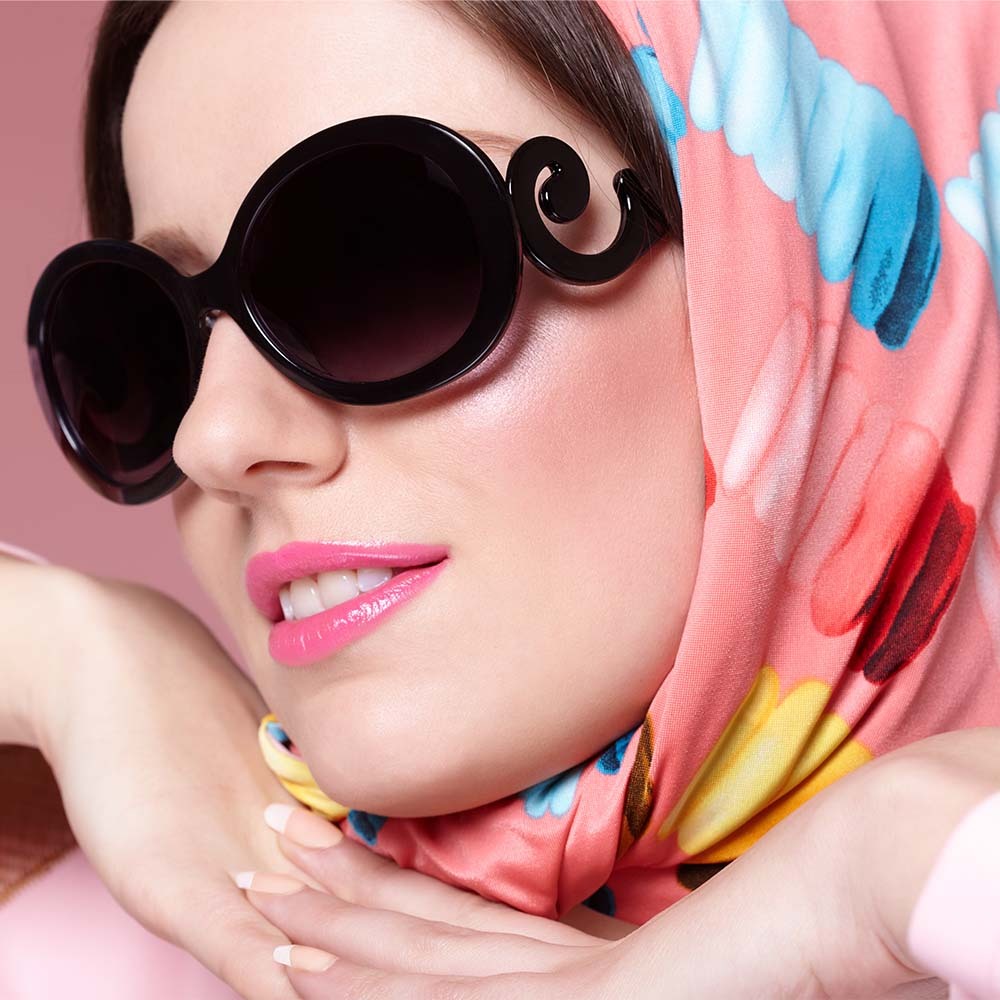 We love to be able to provide our customers with options! The more options we provide, the more likely you'll be able to find exactly what you're looking for. That's why we are intentional about offering many of our products in multiple fabrics! Market totes are offered in cotton canvas and polycanvas; bed pillow sleeves and shams are offered in silk twill and cotton sateen; but perhaps no item has quite as many options as our scarves!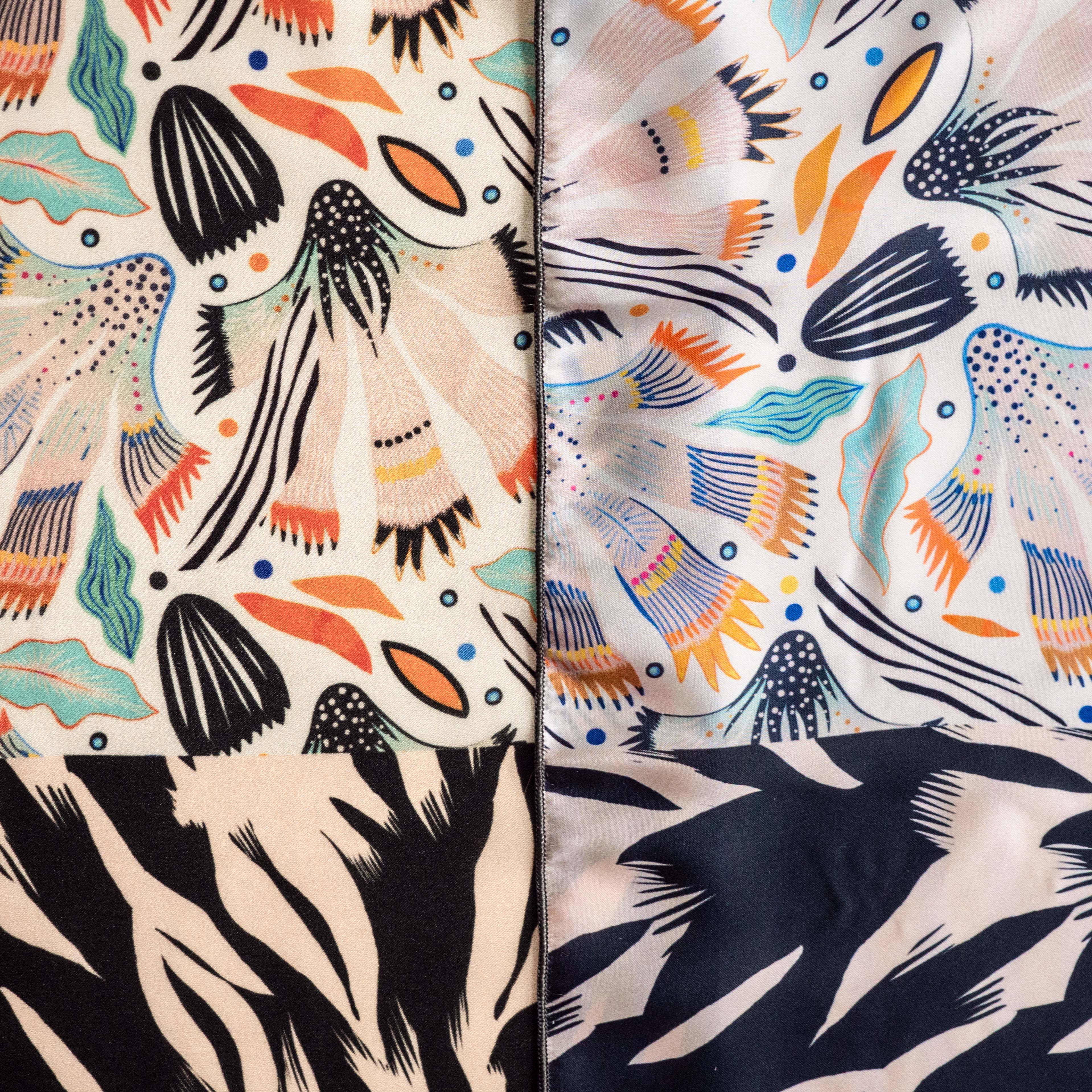 Scarves printed on silk (left) vs scarves printed on matte crepe polyester (right).
Our scarves are offered in not only a wide variety of sizes, but also a wide range of fabric options. In this blog we will briefly go over all of the fabrics that we offer for our scarves. Hopefully this will give you a bit more clarity and help you decide on exactly what you want in your scarves.
Our scarves are available in 3 polyester based and 3 silk based fabrics. First let's dive into the different polyester fabric options.
Polychiffon
The first polyester based fabric we'll discuss is polychiffon. Poly chiffon is the heaviest polyester fabric we offer for our scarves, however it is still incredibly light and semi-transparent with a high degree of print through. It has a smooth surface texture and a low sheen, which results in clear, crisp prints.


Scarf printed on polychiffon fabric.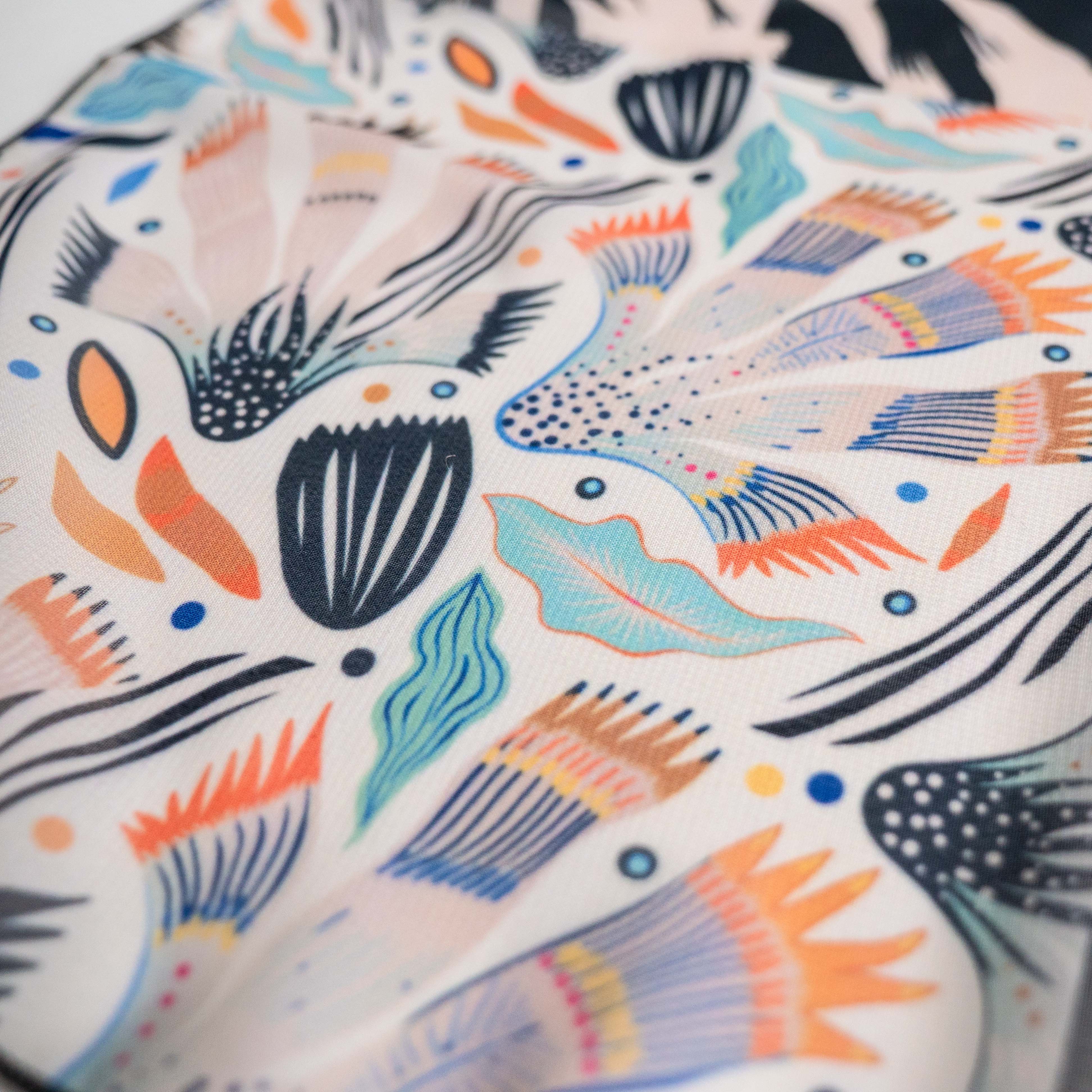 Polychiffon close-up.
Satin Charmeuse
Satin Charmeuse is a slightly lighter fabric with lesser print through than the poly chiffon. While both fabrics result in clean prints, the satin charmeuse has a shiny surface with a matte back side. This fabric is a great choice if you want a budget-friendly fabric that has a shine mimicking silk.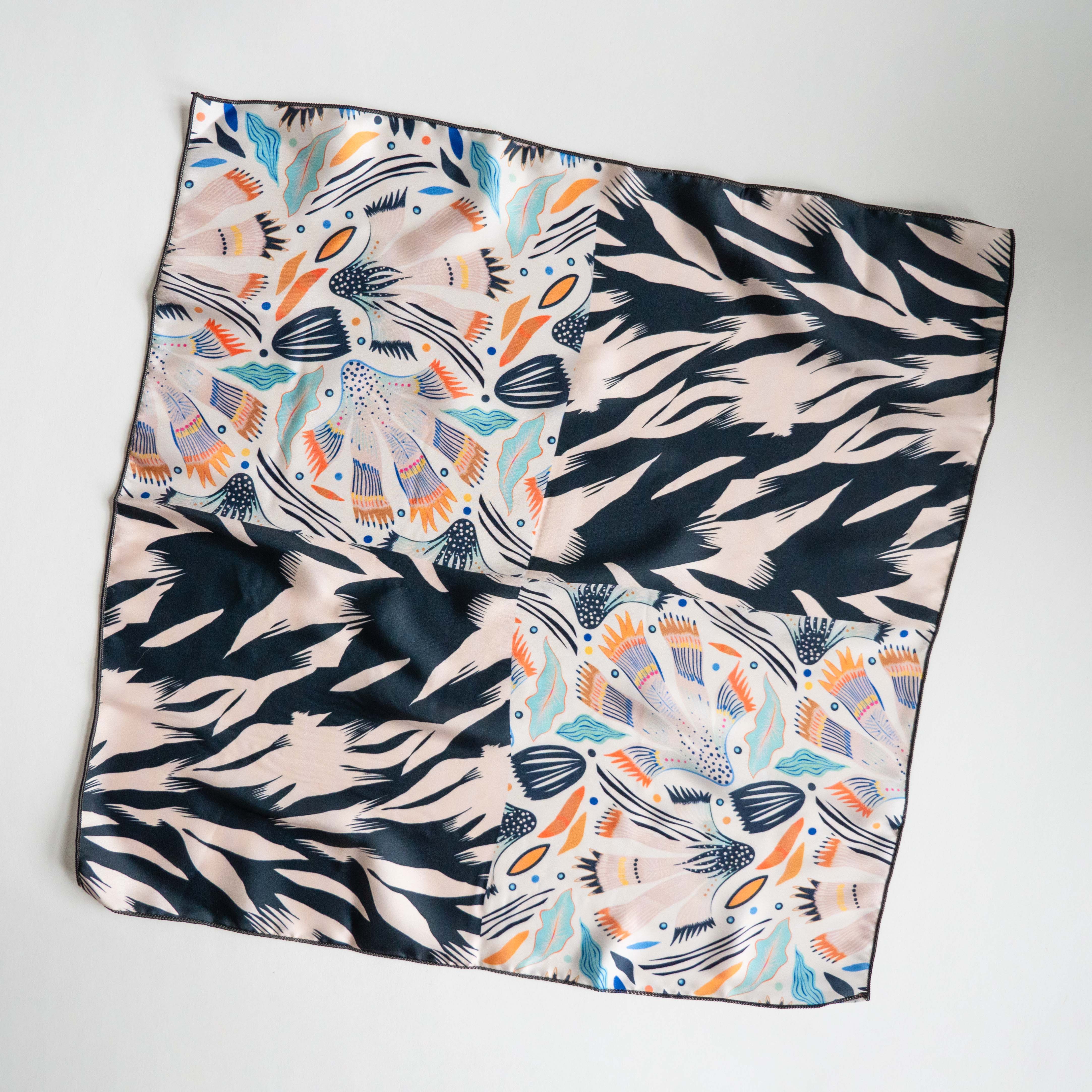 Scarf printed in satin charmeuse polyester fabric.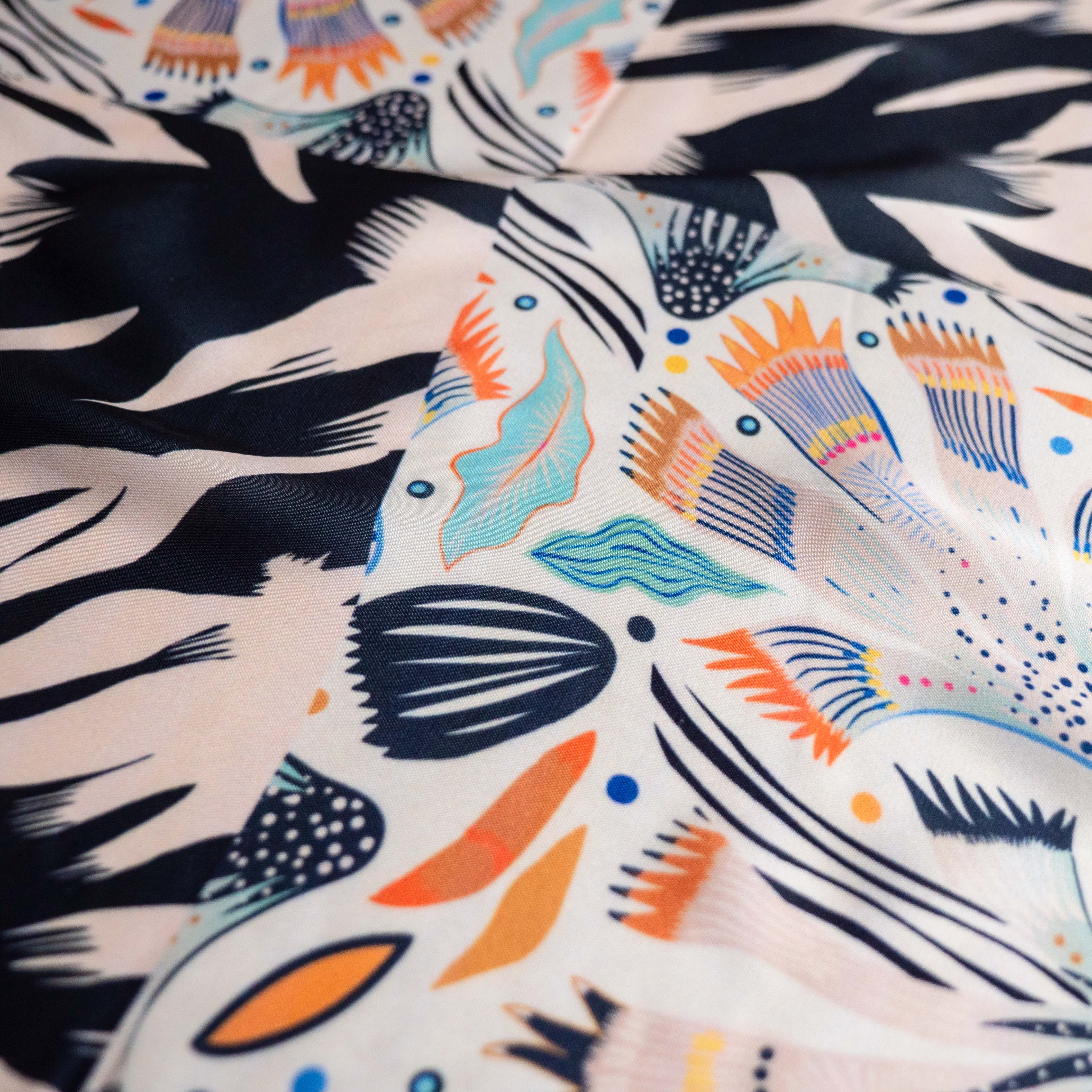 Satin Charmeuse close-up.
Matte Crepe
Our final polyester fabric is matte crepe. This fabric is the lightest of the polyesters we use for our scarves, making it really soft and drapey. Much like satin charmeuse it has a medium degree of print through, but less shine and more of a low lustre. Again, prints on this fabric are very crisp.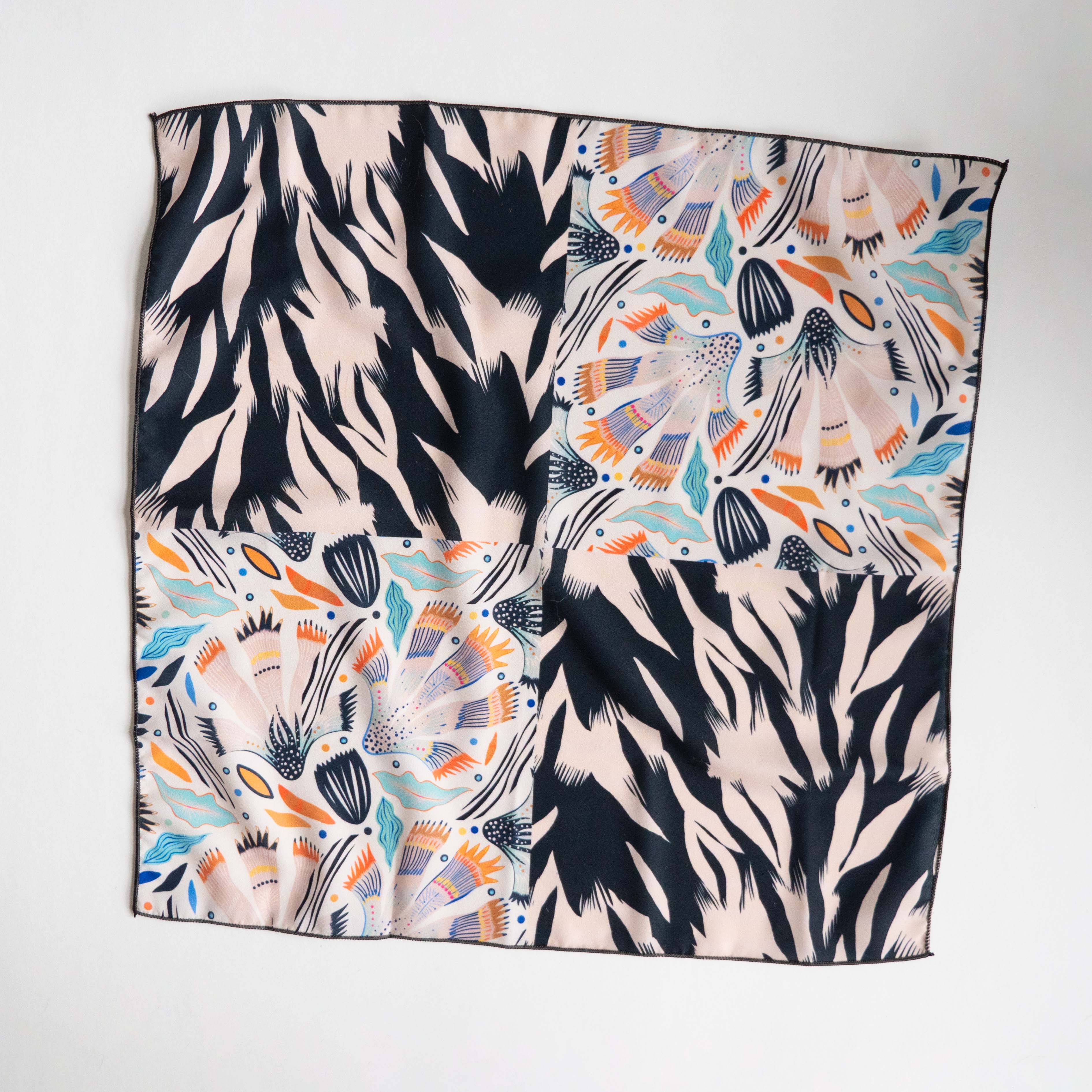 Scarf printed on matte crepe polyester fabric.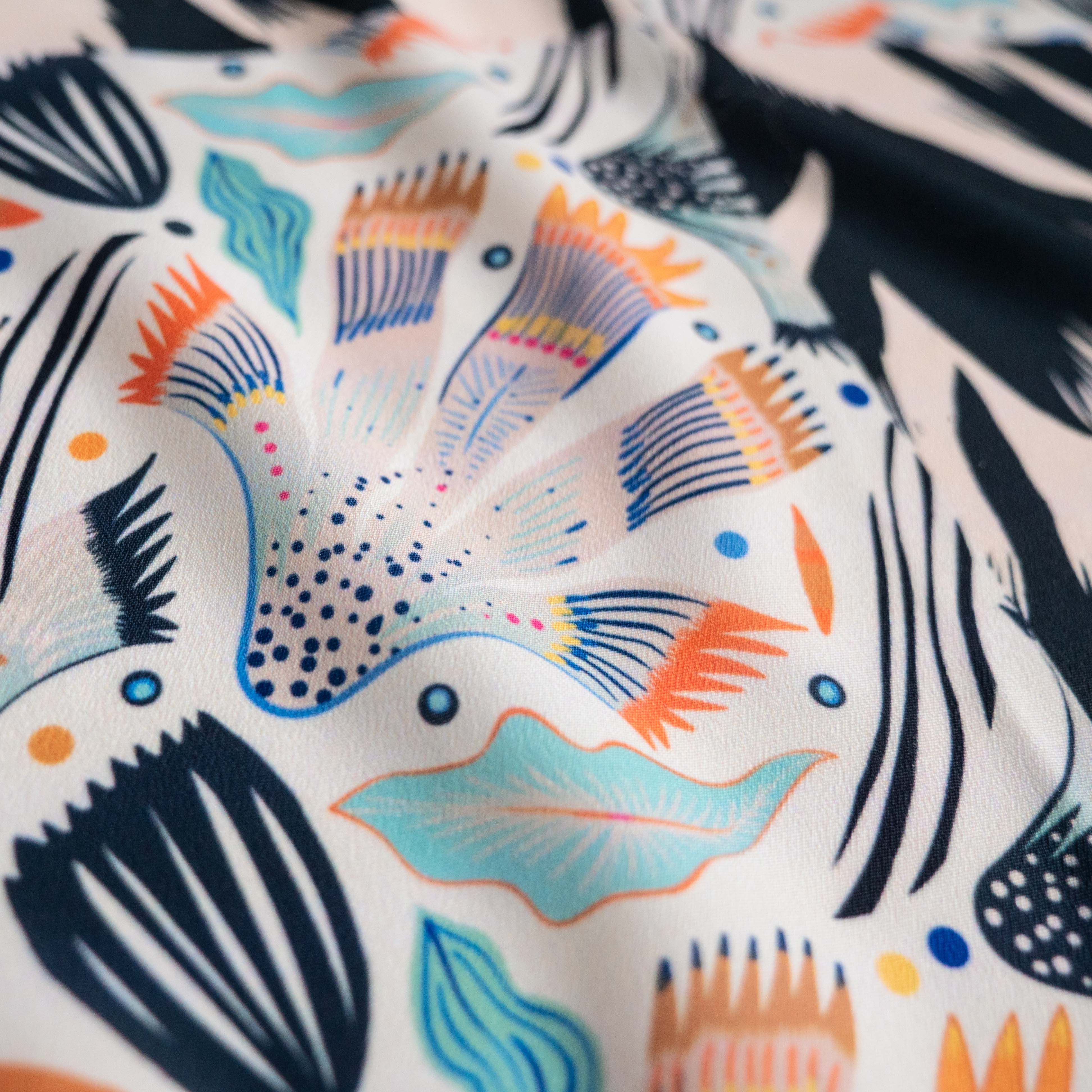 Matte crepe close-up.
Silk habotai
As mentioned we also have 3 luxurious silk fabrics that we use for our scarves. Silk Habotai is the lightest silk that we carry, which makes it a gorgeous option for super drapey scarves. Silk habotai has a really high degree of print through and a moderate sheen on both sides. Prints are clear but have the slightly fuzzy look that comes from printing on extremely light fabrics.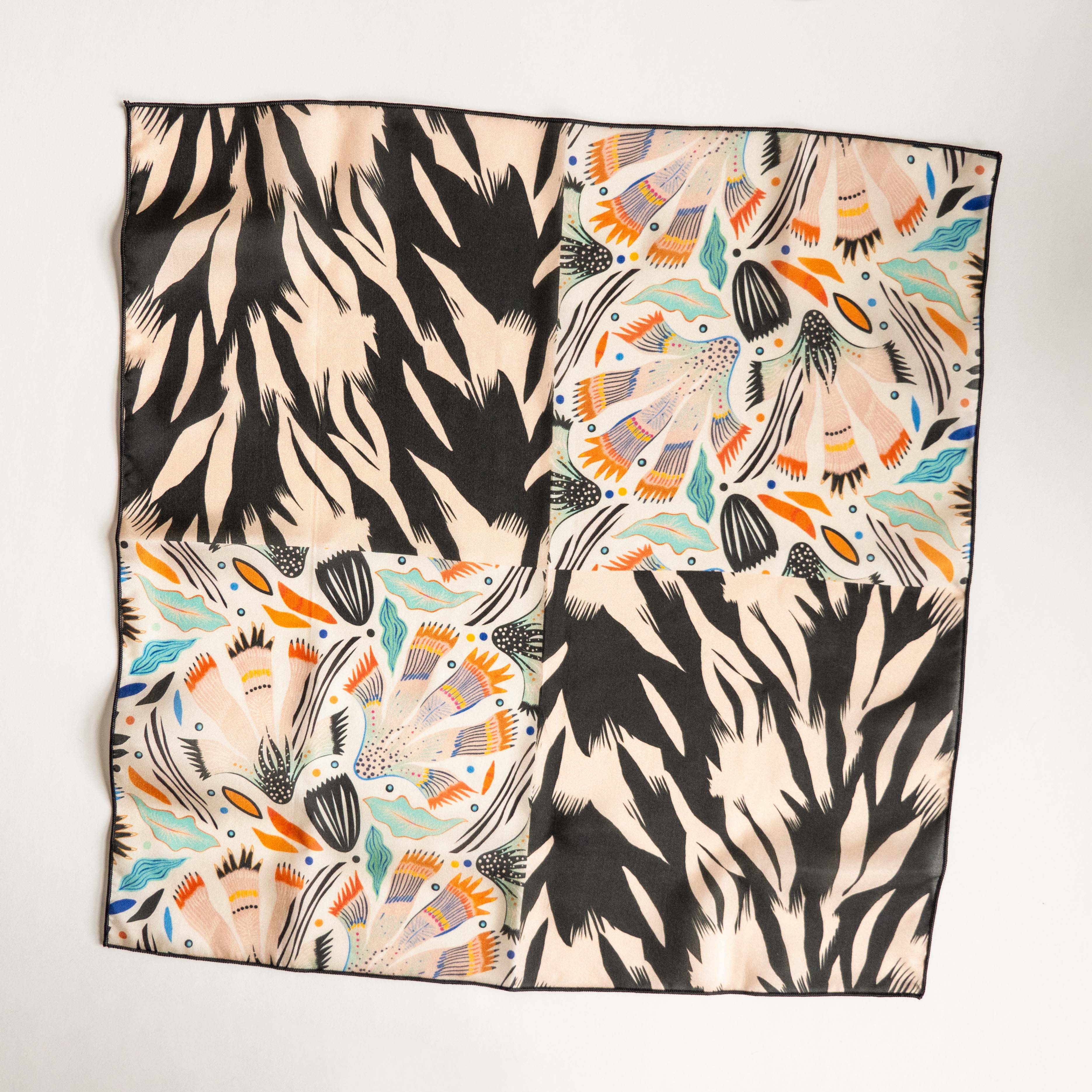 Scarf printed on 100% silk habotai fabric.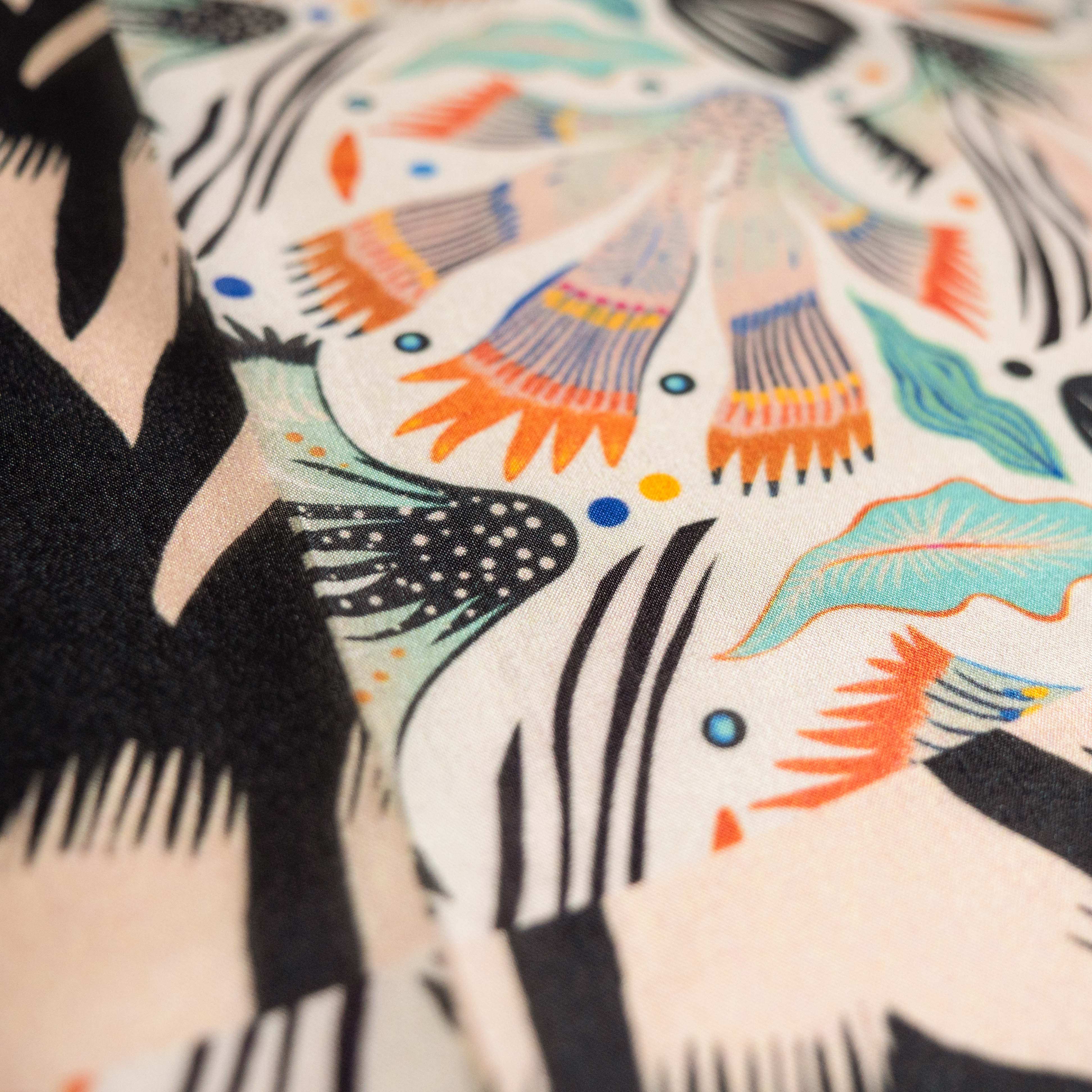 Silk habotai close-up.
Silk charmeuse
Silk charmeuse is a slightly heavier option than silk habotai, while still maintaining a very nice drape. It has an almost liquid-like feel that's lovely against skin, with a shiny surface and a matte underside.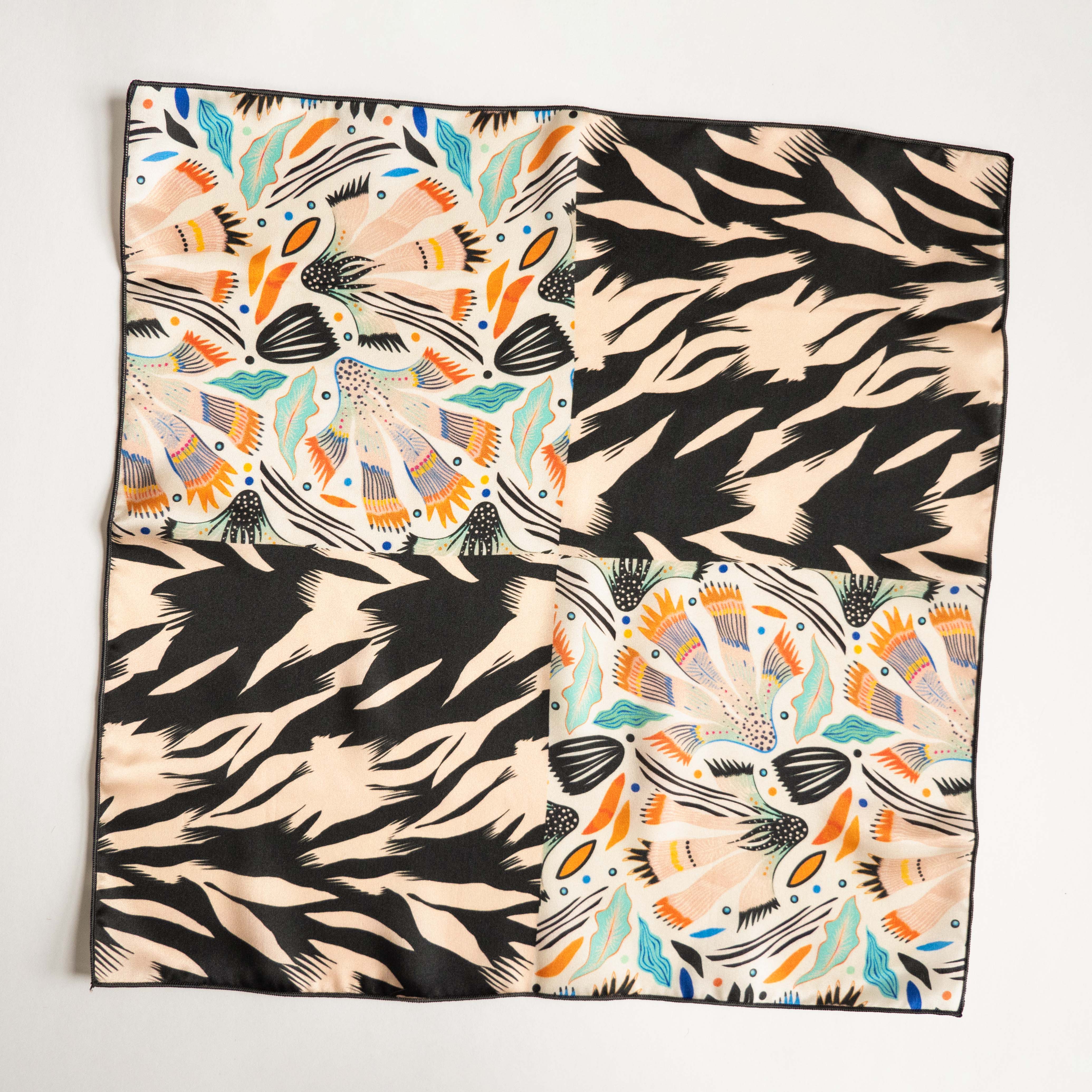 Scarf printed on silk charmeuse fabric.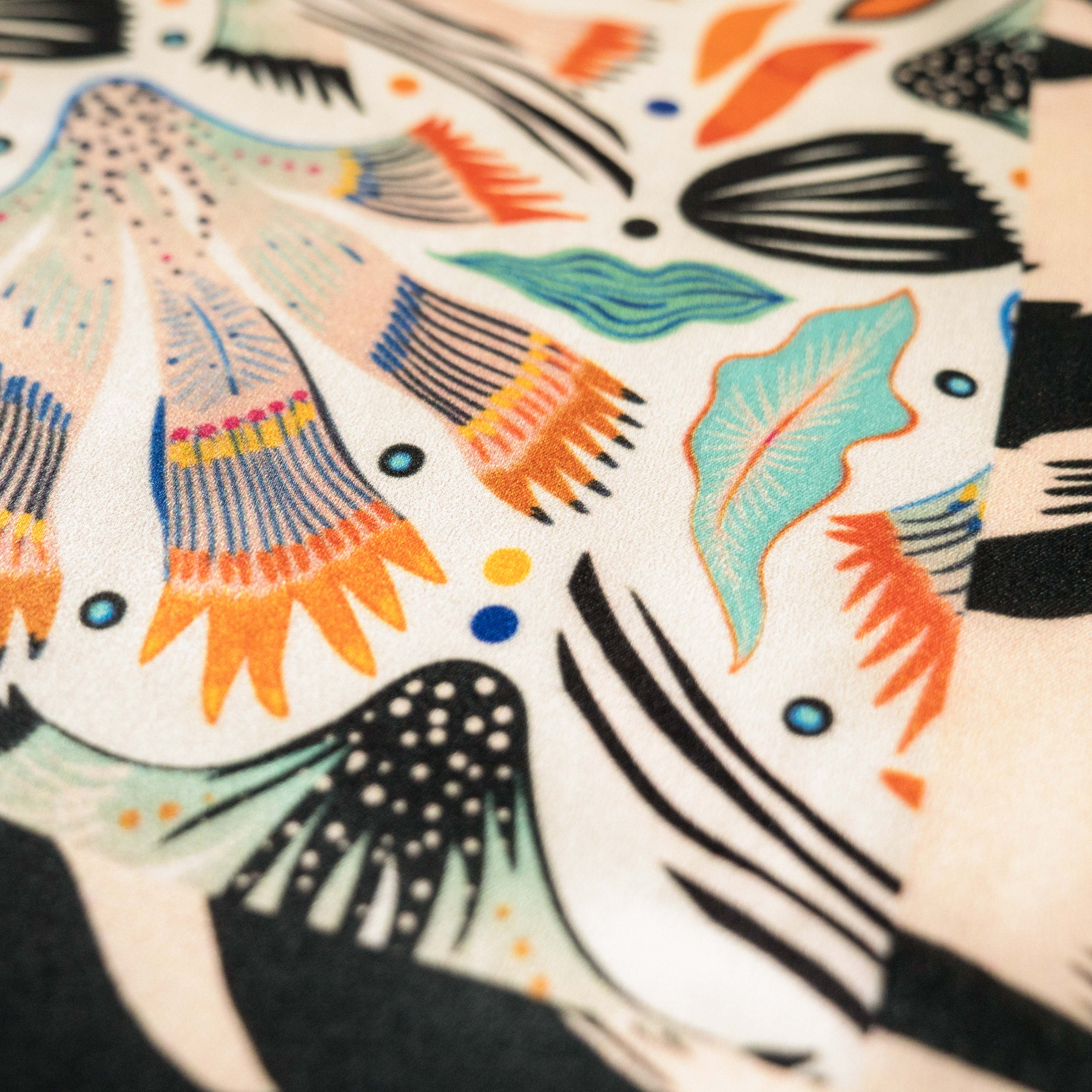 Silk charmeuse close-up.
Silk modal
Our last silk fabric option is actually a silk-blend of silk and modal. This fabric is so unique and really embodies the best qualities of both fabrics! Modal is so soft and durable, while silk gives the fabric that luxurious sheen and drape we all love. This fabric is also a perfect choice for those who want silk on a tighter budget.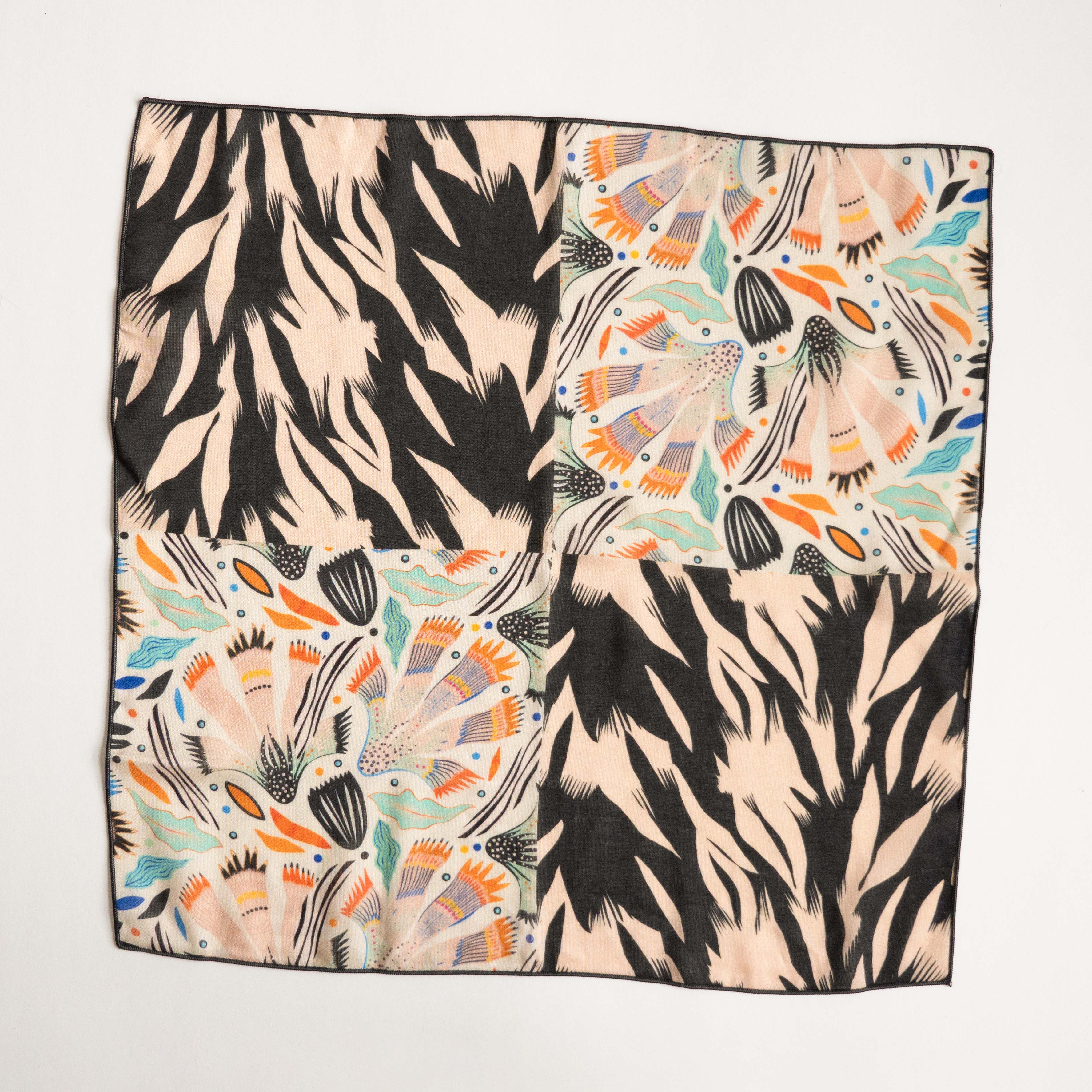 Scarf printed on silk modal fabric.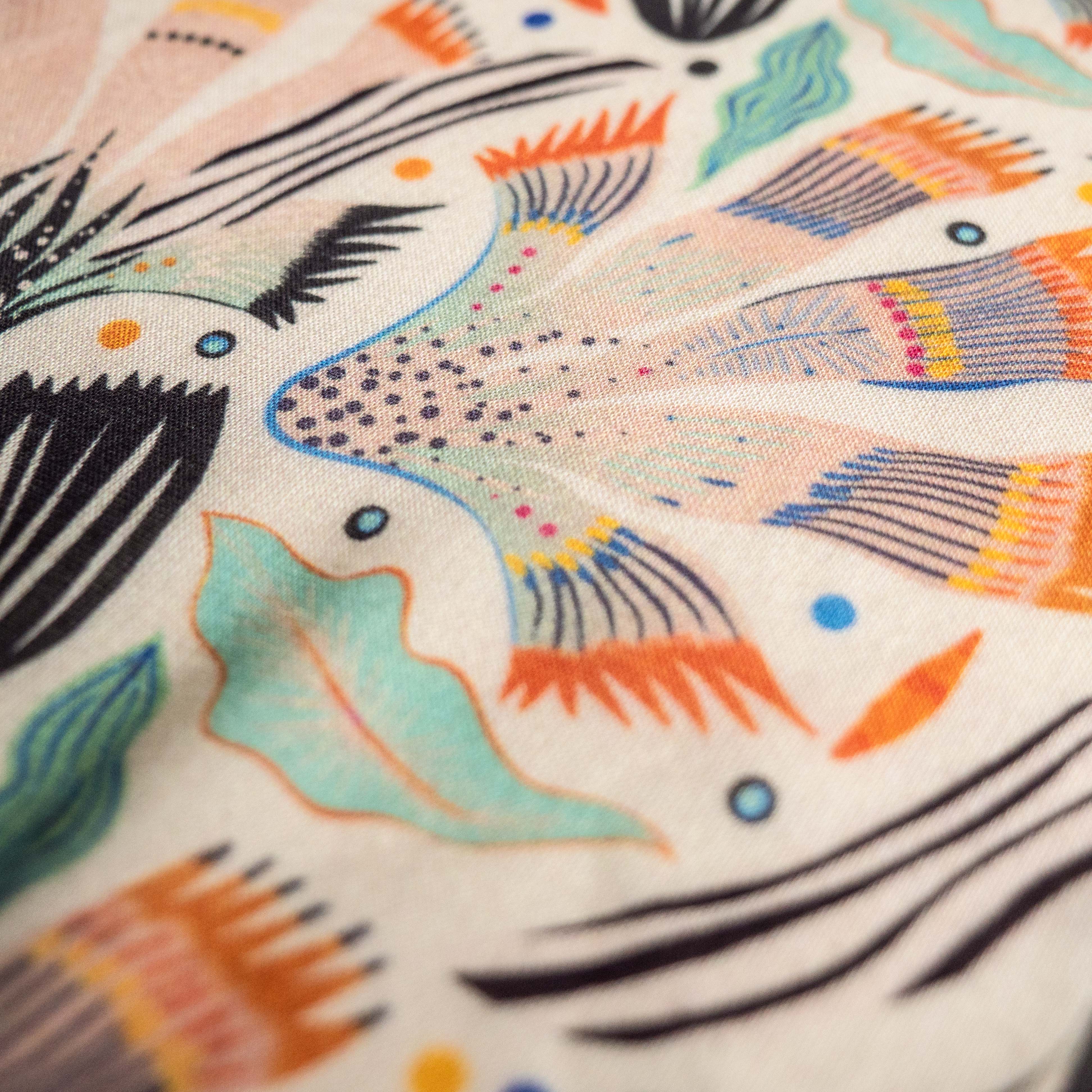 Silk modal fabric close-up.
Scarf printing methods
Now of course the process to print on natural fabrics is different from the process to print on synthetic fabrics. Natural fabrics undergo a printing method called reactive printing, which is a multi-step process that involves printing dyes directly onto pre-treated fabric; synthetic fabrics undergo sublimation printing, which is when the design is first printed onto transfer paper, then heat transferred onto the fabric of choice. While both processes result in permanent, vibrant prints, there will of course be some differences in result. Sublimation printing (on synthetic fabrics) tends to result in slightly more saturated colours and more crisp lines, as synthetic fabrics tend to not be as porous as natural fabrics.


Photo by Yulia Mishkantsova / Unsplash
There you have it! An introduction to all of our different scarf fabric options. Hopefully this breakdown will be helpful for you when designing and ordering your own scarves, for yourself or your customers. If there is anything that wasn't covered that you'd like to know more about please let us know in the comments or, as always, feel free to contact our customer service team.