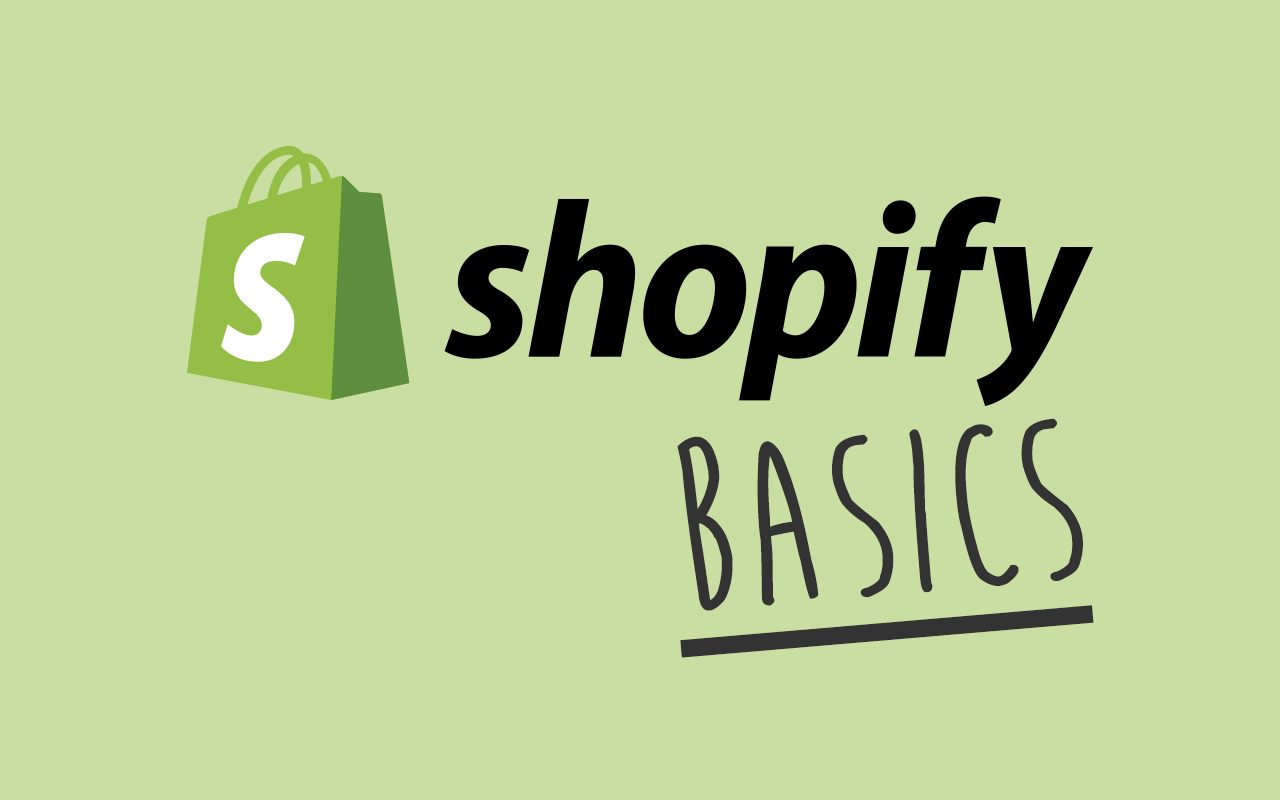 More and more of our customers are choosing Shopify as their e-commerce platform, and we understand why. There is no free plan like Big Cartel has, but they offer a 14 day free trial and even the cheapest plan has some great features and flexible selling options. Shopify is well known for having great support and there are a lot of resources for users to take advantage of from guides to free stock photos to user forums.
The Price
Shopify plans start at 9 USD and go up to 299 USD per month. We'll take a look at the two least expensive options.
If you don't want to commit to maintaining an online store just yet, you can go with Shopify Lite for just 9 USD per month. You can sell via social media or your personal website or blog. If you have an event to sell at, like a holiday market or summer festival, you can get the Shopify point of sale app and card reader to handle your in person sales. You'll also have access to a dashboard to see all the sales activity and you'll have finance reports so you can easily see where you're at.
The next plan, Basic Shopify, is a jump up, at 29 USD per month. This plan allows you to create and maintain your online store. You can add as many products as you want, and you'll have a Shopify admin page from which you can manage those products, your orders and customer information. You can use the Shopify theme editor to give your store the look you want, and if you'd like a custom domain name, you can buy one through Shopify. This plan also comes with a built in blogging engine. You can connect with your customers and keep them up to date on everything! Just like Shopify Lite, you can use the Shopify point of sale app and card reader for in person sales.
For Basic Shopify and Up
Themes
Shopify offers plenty of free and paid themes. Each theme may have different styles to choose from and may offer different features, such as the ability to add videos or pop-up product details. You can edit your chosen theme, or design your own if you'd prefer.
Adding Products
Once you've set up your shop and connected your Shopify account to Art of Where, adding your products to your Shopify store is super easy. You can add them directly from your AOW dashboard.
Click the blue button at the bottom right: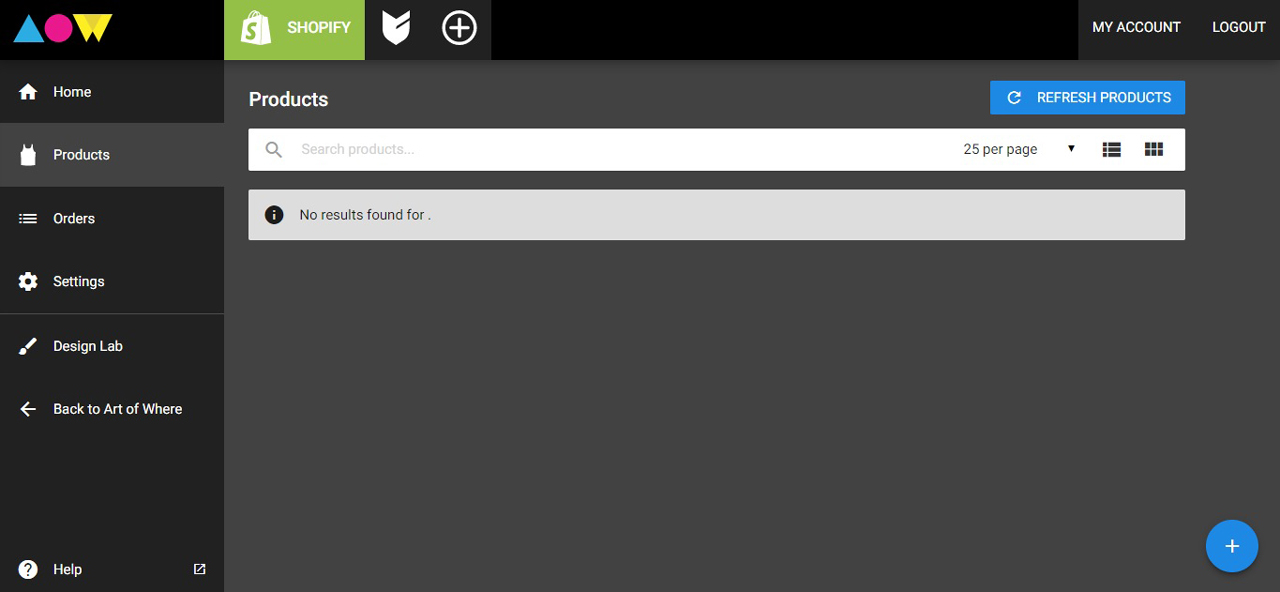 Choose your product and select add to shopify: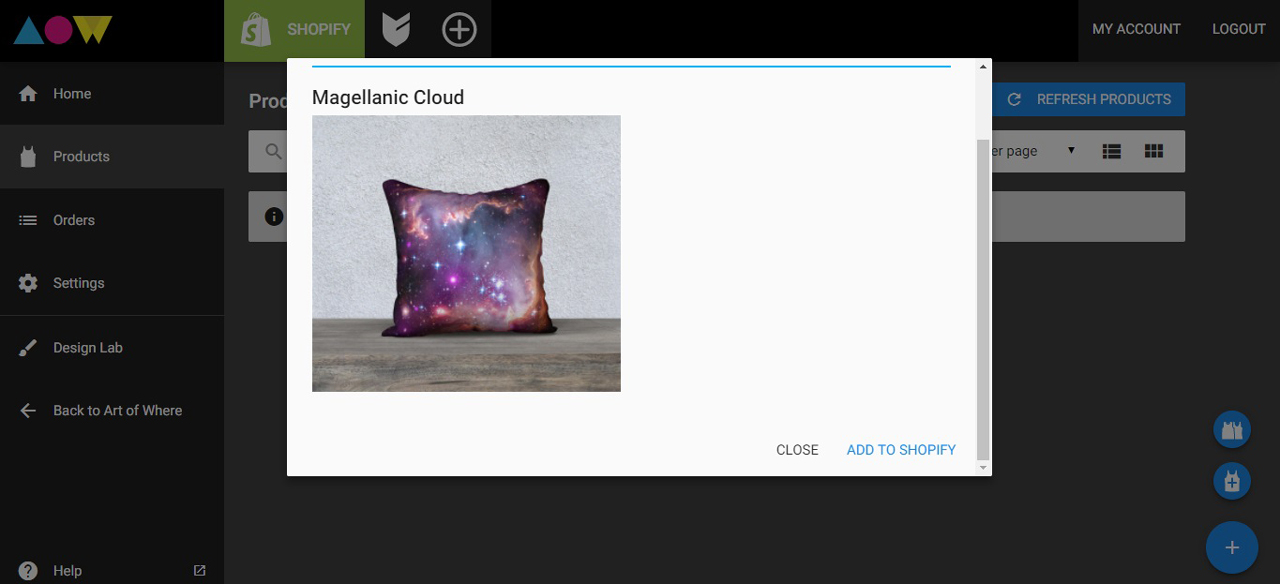 The page will reload to show your synced product: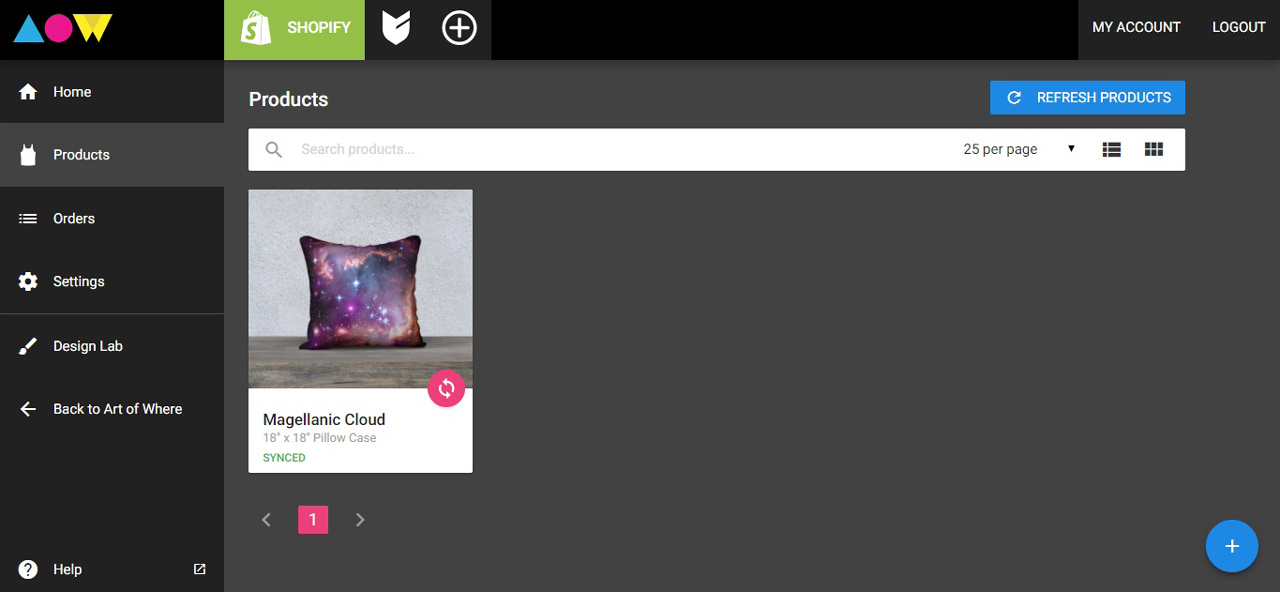 After adding your product to your Shopify store, go to your account to edit your listing. You'll see that the product preview, description and all the variants have been added. You can edit the description, remove variants, and add or remove pictures.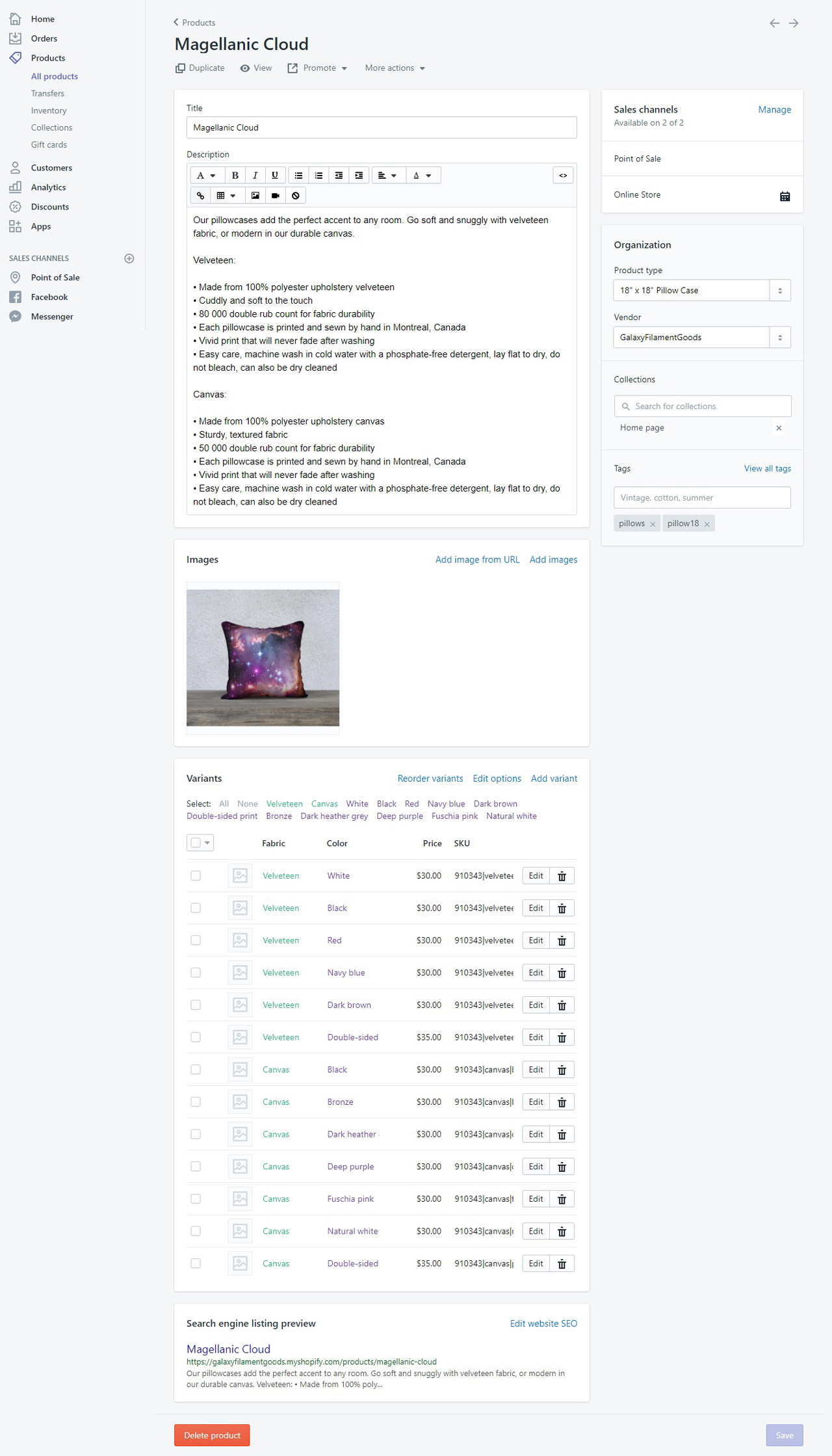 For the Magellanic Cloud pillow case, I removed all variants except velveteen black back and double sided. I changed the price and edited the description.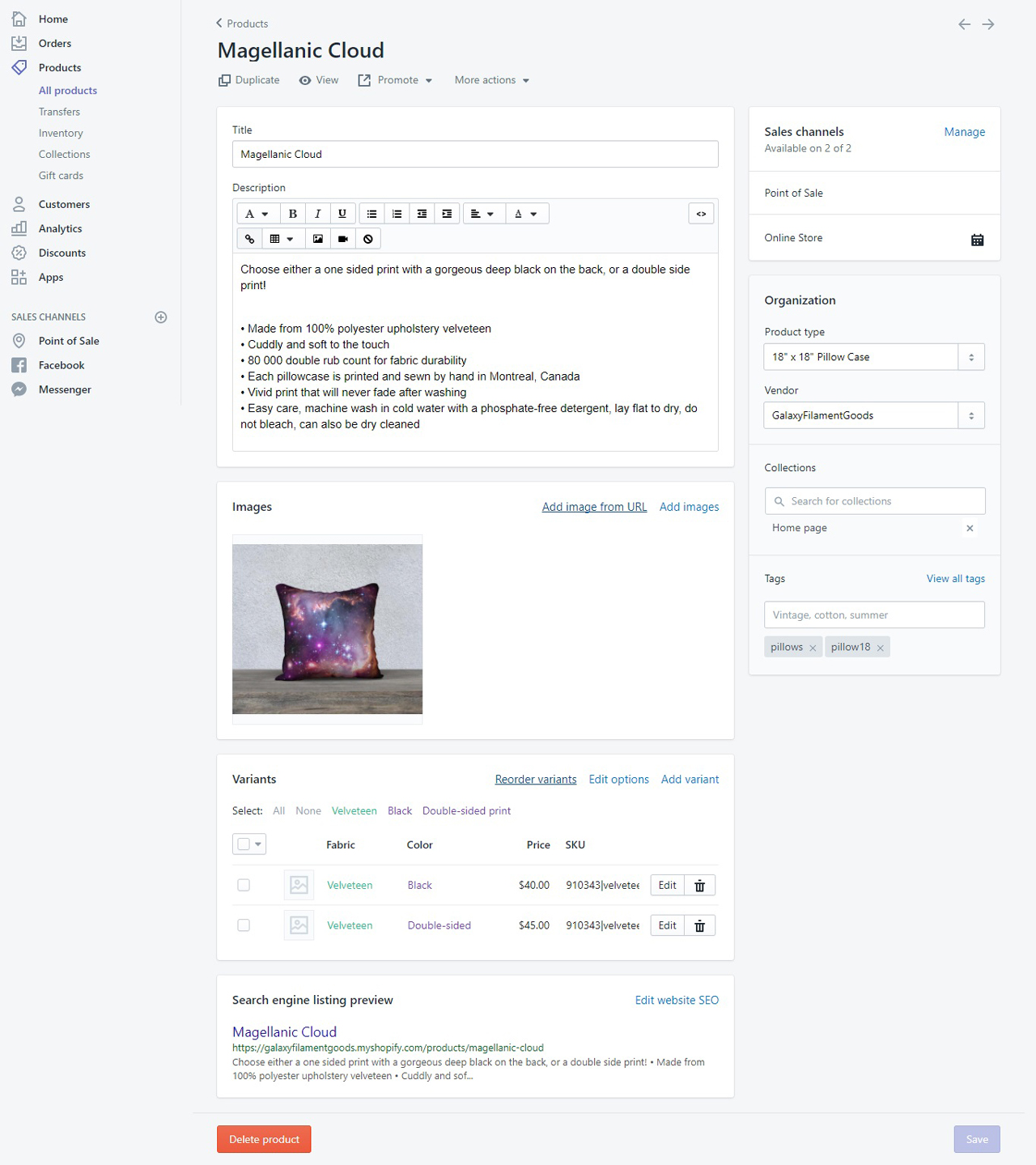 The admin page for Shopify can be a bit intimidating, and the set up does take time, but once you're done, maintenance is not difficult. Opt to have payments to Art of Where processed automatically when orders come through, and it's smooth sailing. You can focus on creating, interacting with customers, setting up marketing and so on.
Neat Features
Shopify provides various sales channels, such as the buy button that can go on your personal website, selling via Facebook, the ability to process sales in person etc. It's a very comprehensive e-commerce option.
You have access to great analytics. Shopify provides you with a tonne information so you can learn about your customer base, improve your store and choose the right marketing options, all from your admin page.
You can add various apps to help your store become successful! Shopify's app store offers a lot of free and paid apps that can help you with customer service, marketing, accounting and so on.
Check out some Shopify stores for inspiration: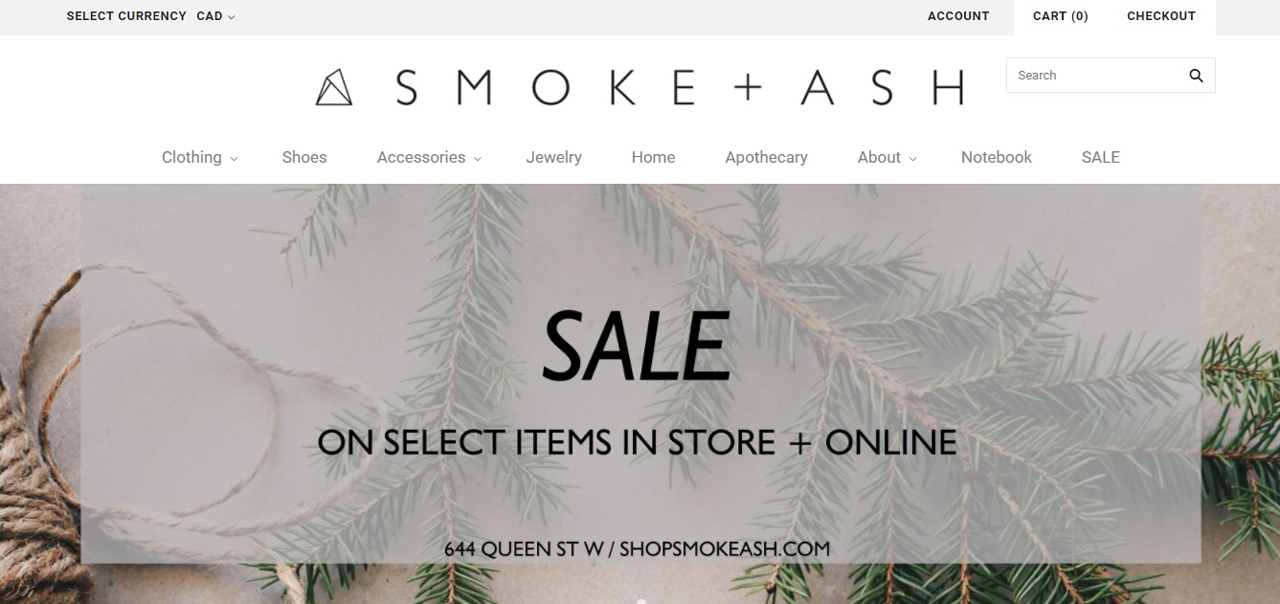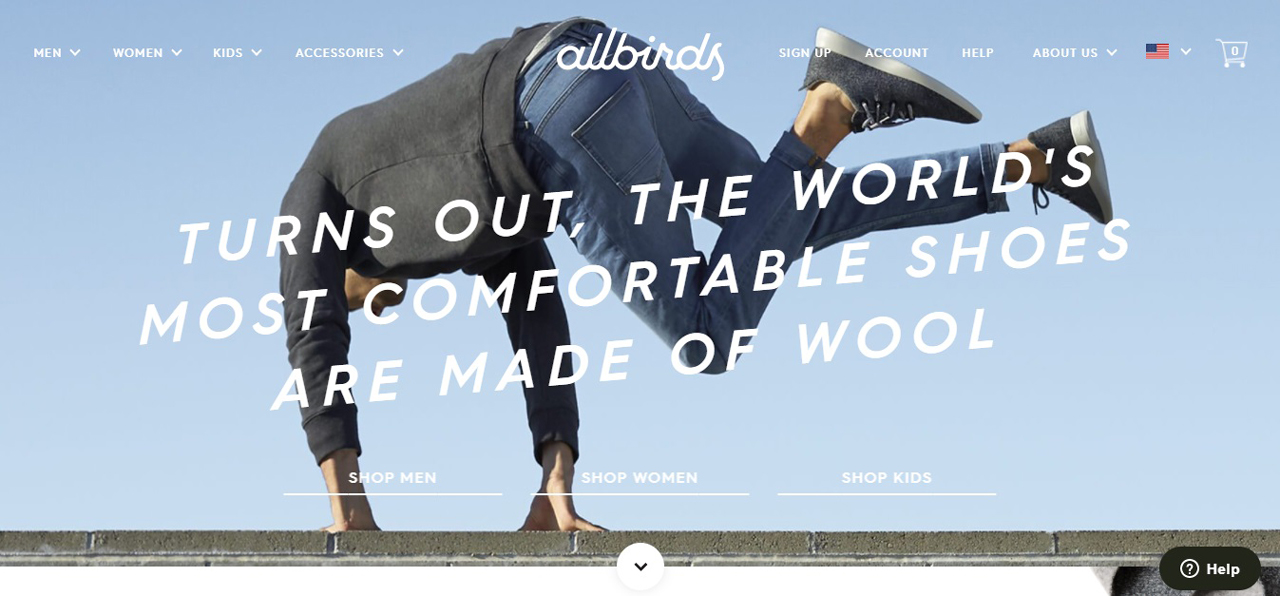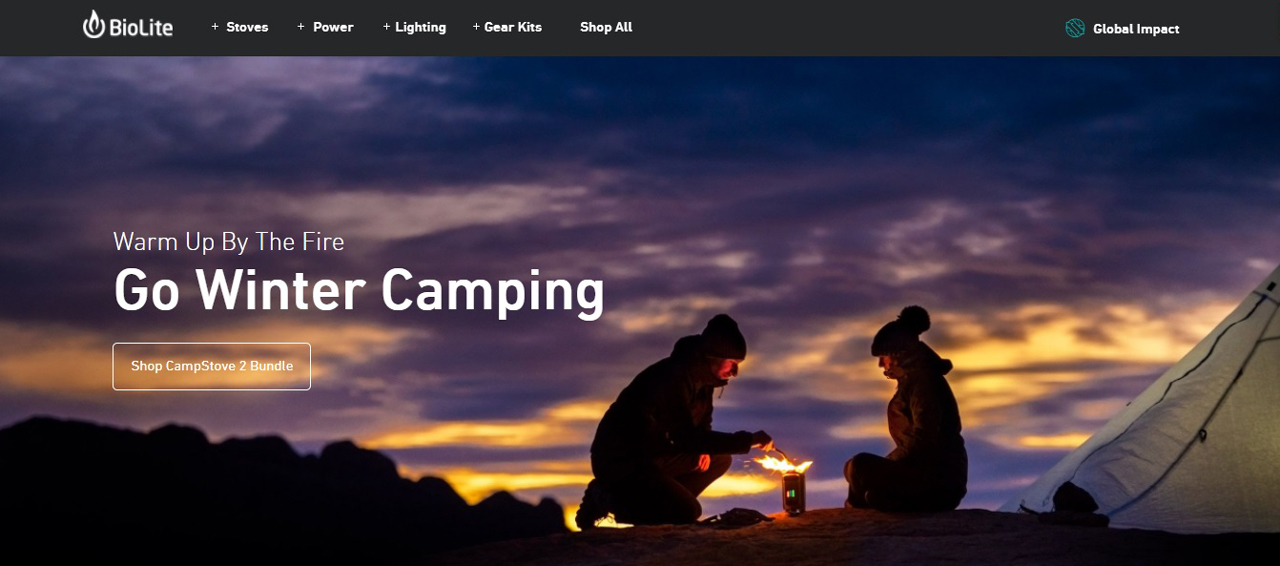 Happy selling! If you have any Shopify tips, feel free to post them in the comments! If you have questions, check out our guide or contact us!