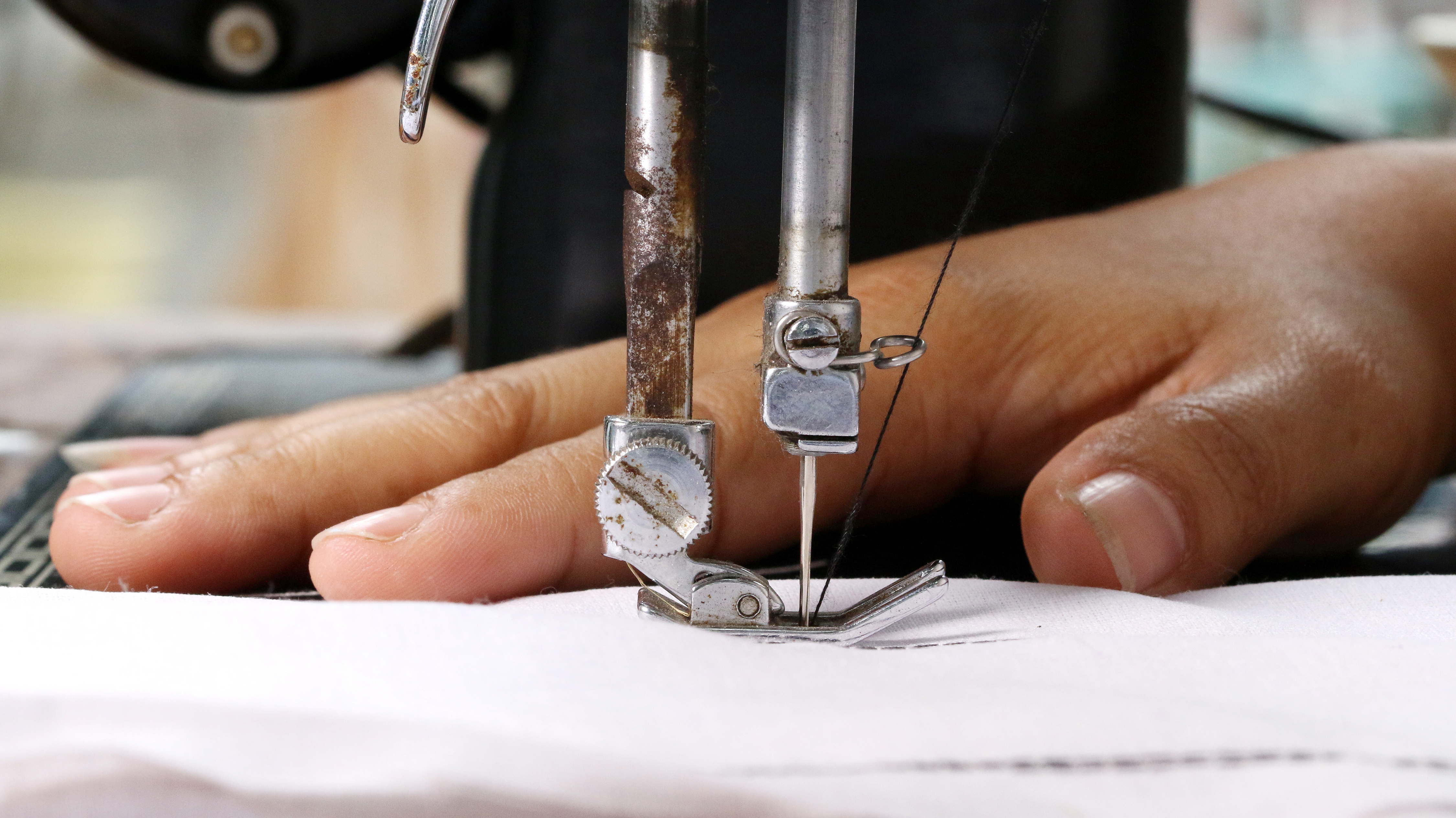 You, our amazing customers, are artists and designers. When you receive a product from us, you'll look at it with a keen, critical eye and see your work in a whole new way. As manufacturers, we see things slightly differently than you. We look at your leggings or bag or pencil case and judge if the print matches what you uploaded, and we look at the quality of our work and ensure that the product will look great on the shelf of a store, for example, or in photos for your Etsy shop. If we don't think it's good enough, we will have it remade. Our goal is that the product will pass muster with your end customers.
We're going to explore how we sew our products, and how we approve them for shipping. After reading this, you'll have a good understanding of how the product should look and what to do if something doesn't look quite right.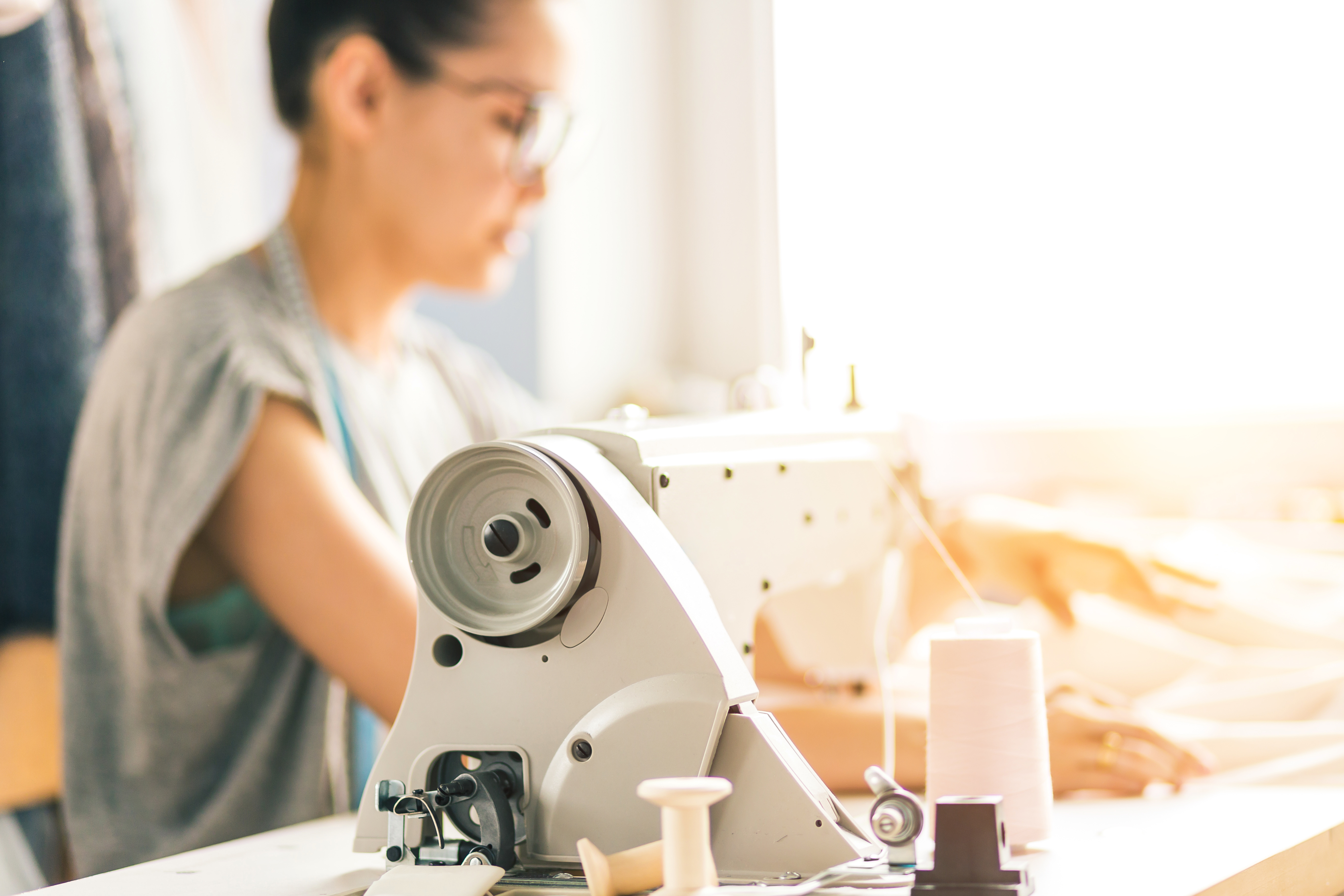 Quality Control
The following points should be kept in mind when creating your own store policies and when dealing with customers who have a concern regarding their order.
If a design is meant to match at a seam, the product will not pass quality control if there is a difference of 1cm or more between the finished product and the print file.
When designing clothing, you are designing a size large by default, and we resize and shift the artwork for you when other sizes are ordered. If you design the large with important elements too close to the seams and they get cut off, the product will still pass quality control as the finished product will match the print file. Respect the red text safe areas in the Design Lab so major details are not lost during resizing.
When it comes to clothing, pillow cases and bags of all types, they are made with curves. Clothing is made for us to wear and we are not 2D so receiving something that doesn't lay completely flat, or has a noticeable curve at the waist band is normal. Pillow cases are made to contain pillow inserts and bags are made to carry all of that stuff you didn't mean to buy at the dollar store. Curves in patterns allow room in the finished product for all that stuff!
Sublimation Printing and Sewing
During sublimation printing, the ink is absorbed into the top layer of the fabric. If the fabric is thick, like our performance knit, the ink is not absorbed all the way through to the other side of the fabric. When printing on a less thick fabric, like our poly chiffon, you will be able to see about 50% of the print on the back side.
When we sew our products, the needles will pass through the fabric layers and push the fibers aside to make space for the thread. Sometimes, especially on dark prints, you will see small white areas around the stitches. This is the inside of the fabric showing, where the fibers have been pushed aside.
For most prints, you will never even notice it, but for darker prints or solid colours there may be a visible amount of white around the stitch lines. There is nothing we can do to prevent this and it will be noticeable in areas of the garment that stretch the most, like the back of leggings. Below are examples of different prints fully sewn.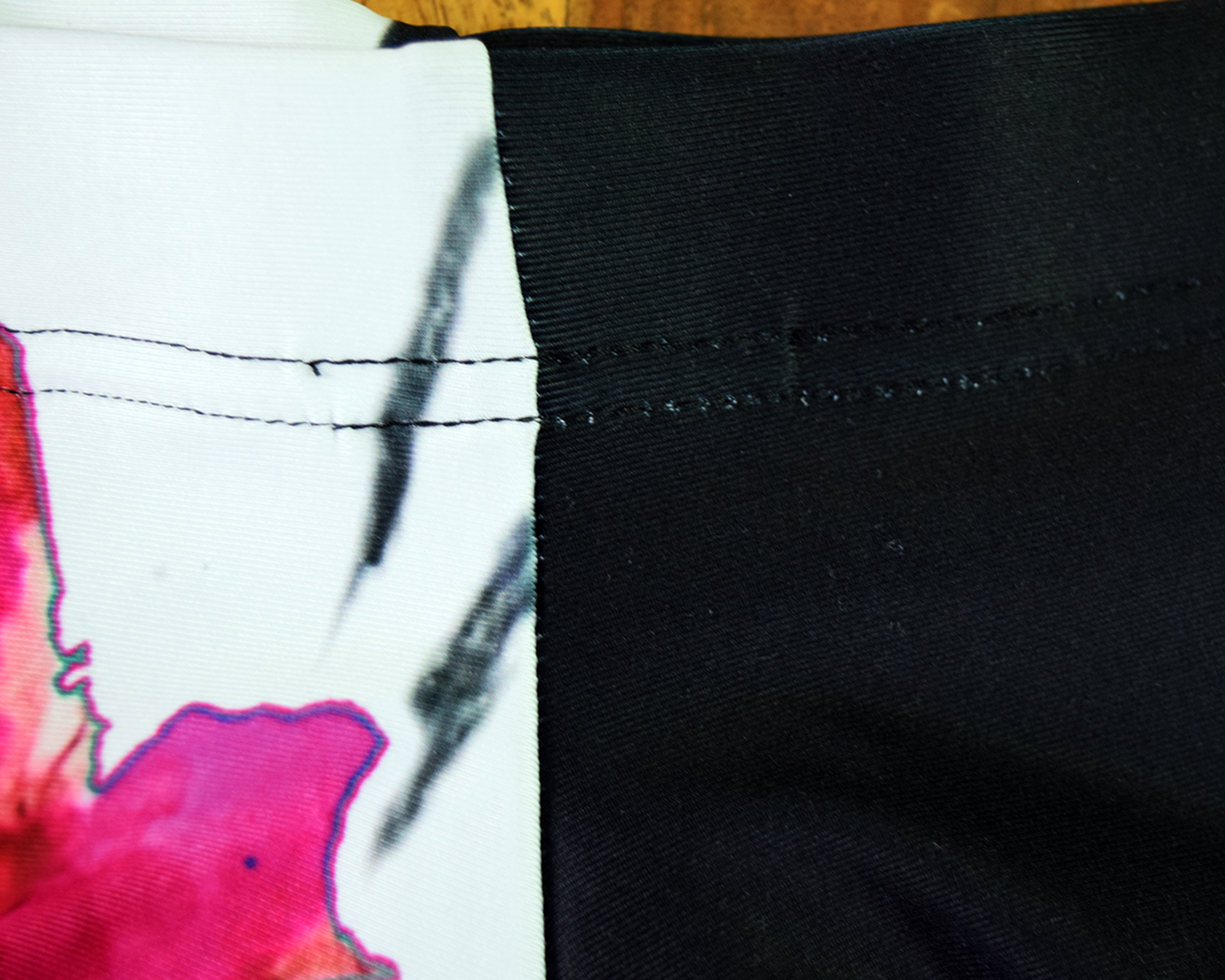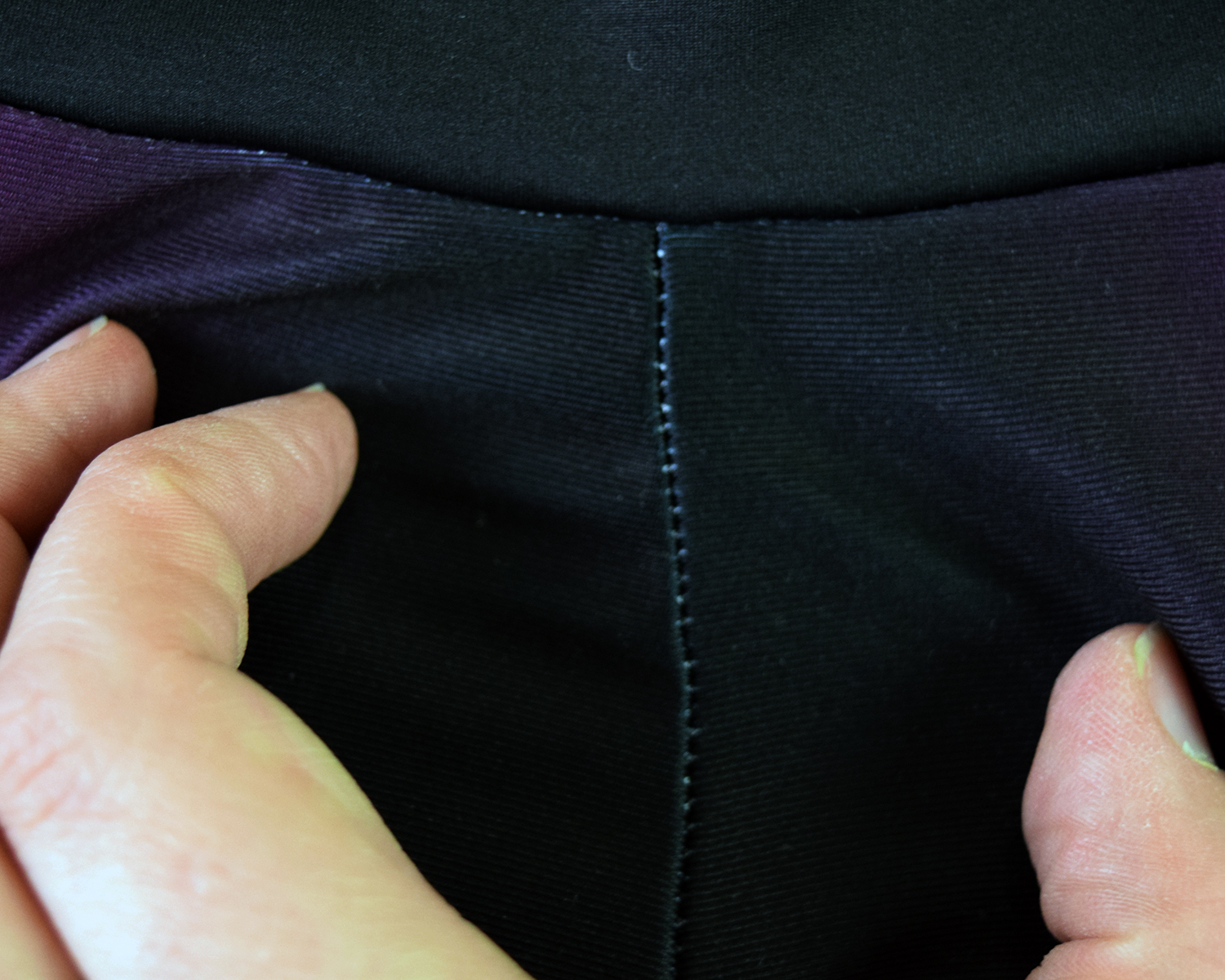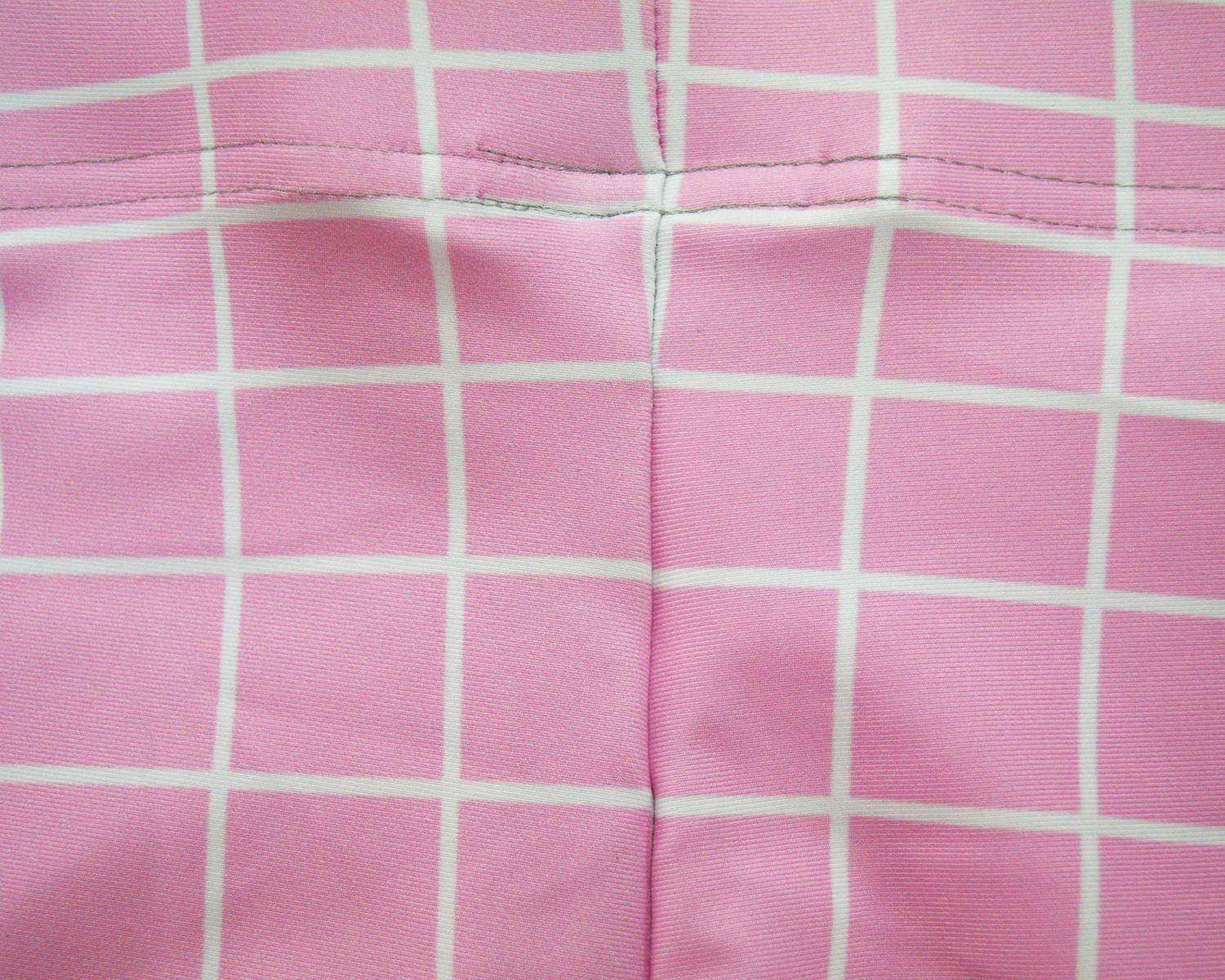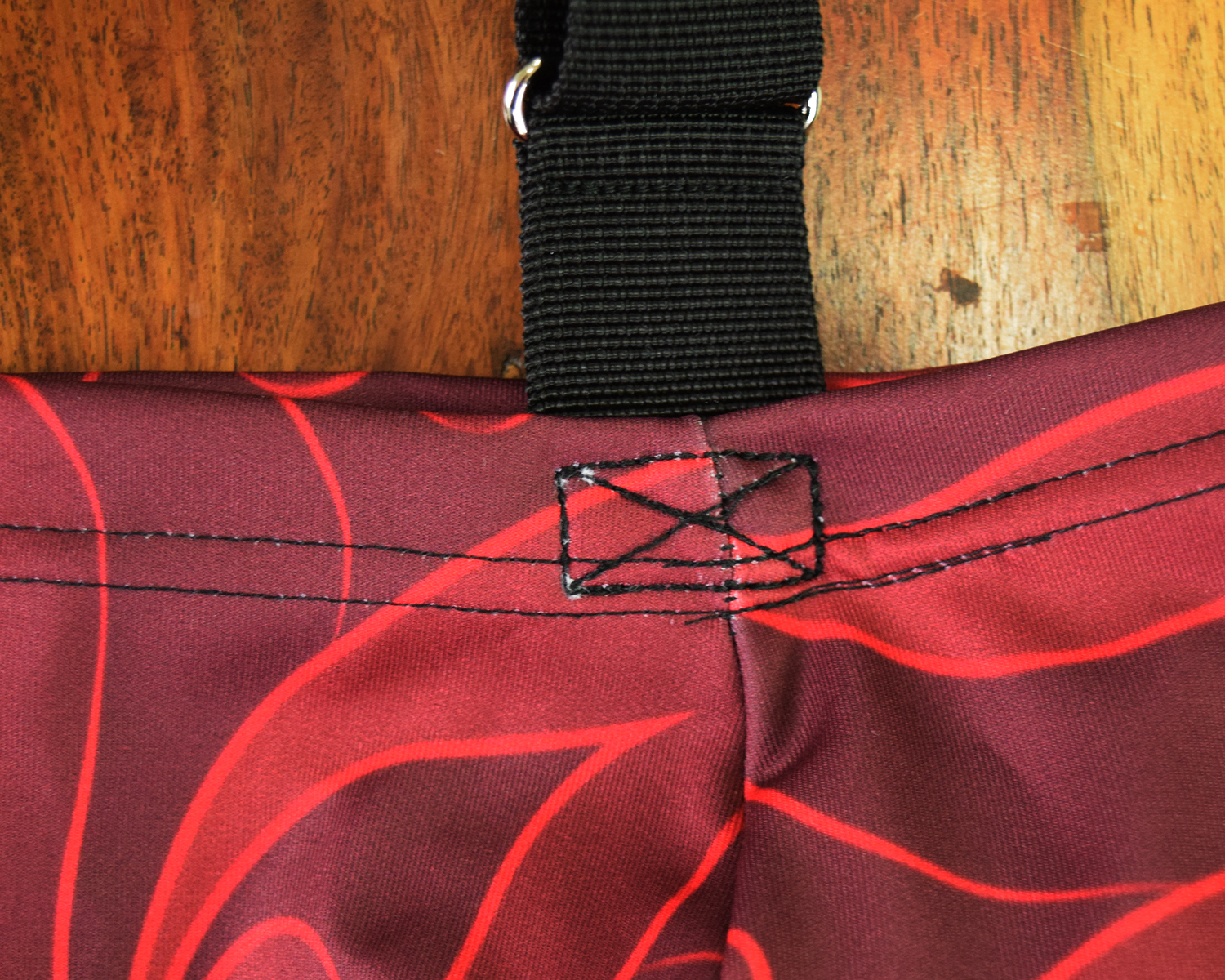 Thread Colour
For many of our products, you can choose 1 of 4 thread colours that you think best suits your design and that is what we will use. To see where to select thread colour, check out our help section. If you don't select a thread colour for the products that have the option, our sewing team will choose the colour they think goes best with your design.
Clothing
Many of our clothing products are finished with coverstitching. Coverstitching looks like 2 rows of stitches on the outside of the garment and a ladder-like row on the underside.
Below are examples of variance in coverstitching between 2 products and what we consider acceptable variance and what we consider unacceptable variance.
Great stitching! This is the strap of a crop top, and this one would definitely pass quality control.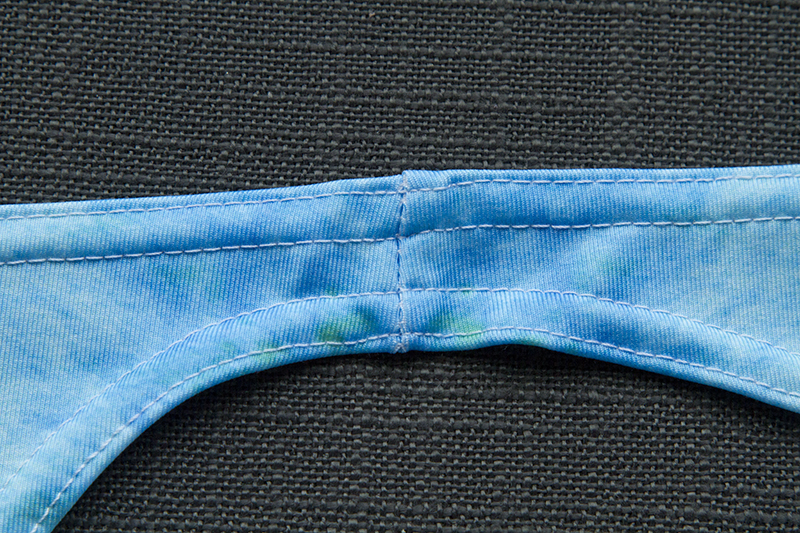 Not great at all stitching! Again, this is the strap of a crop top, and this will not pass quality control. The straps are too narrow and the coverstitching crosses.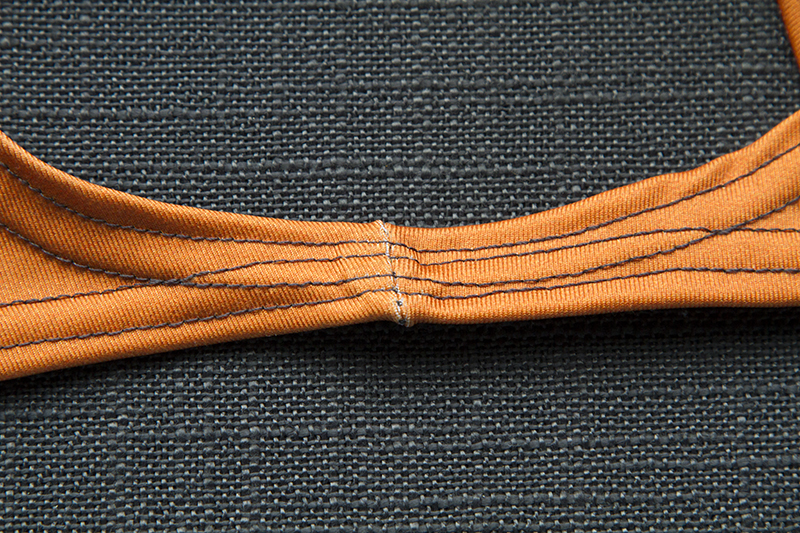 To finish a coverstitched seam we overlap the stitching by about 1-2". This secures the stitch so it withstands use and washing. When we overlap, we try to sew dead on the original line but it's not unusual to be off. We're humans, not robots after all.
The 3 pictures below show stitching that will pass quality control.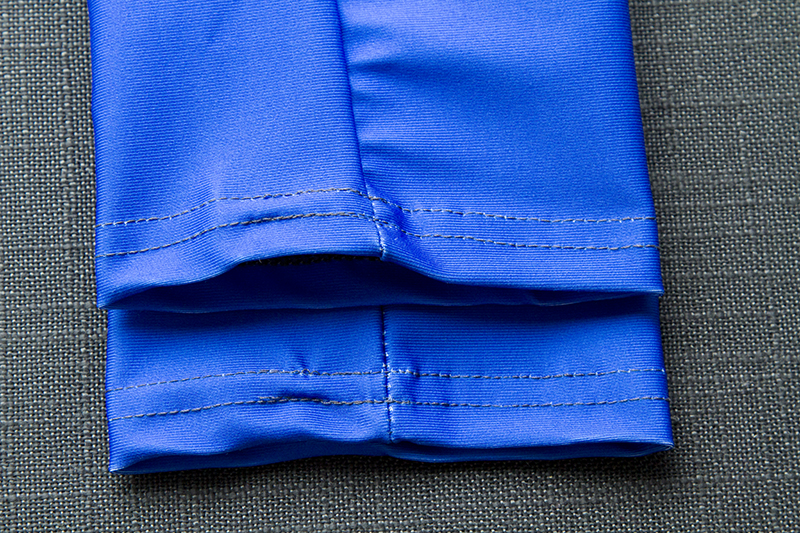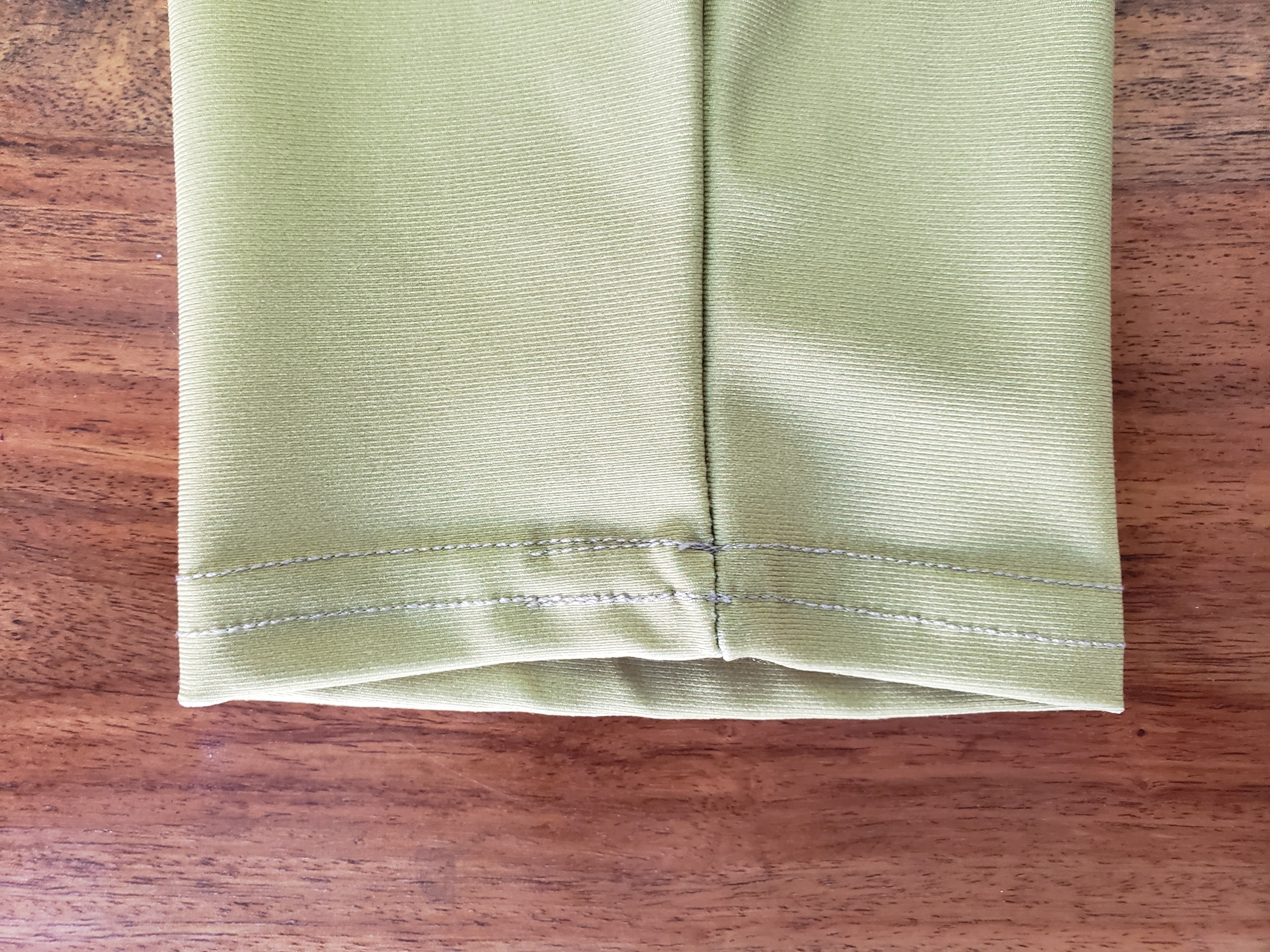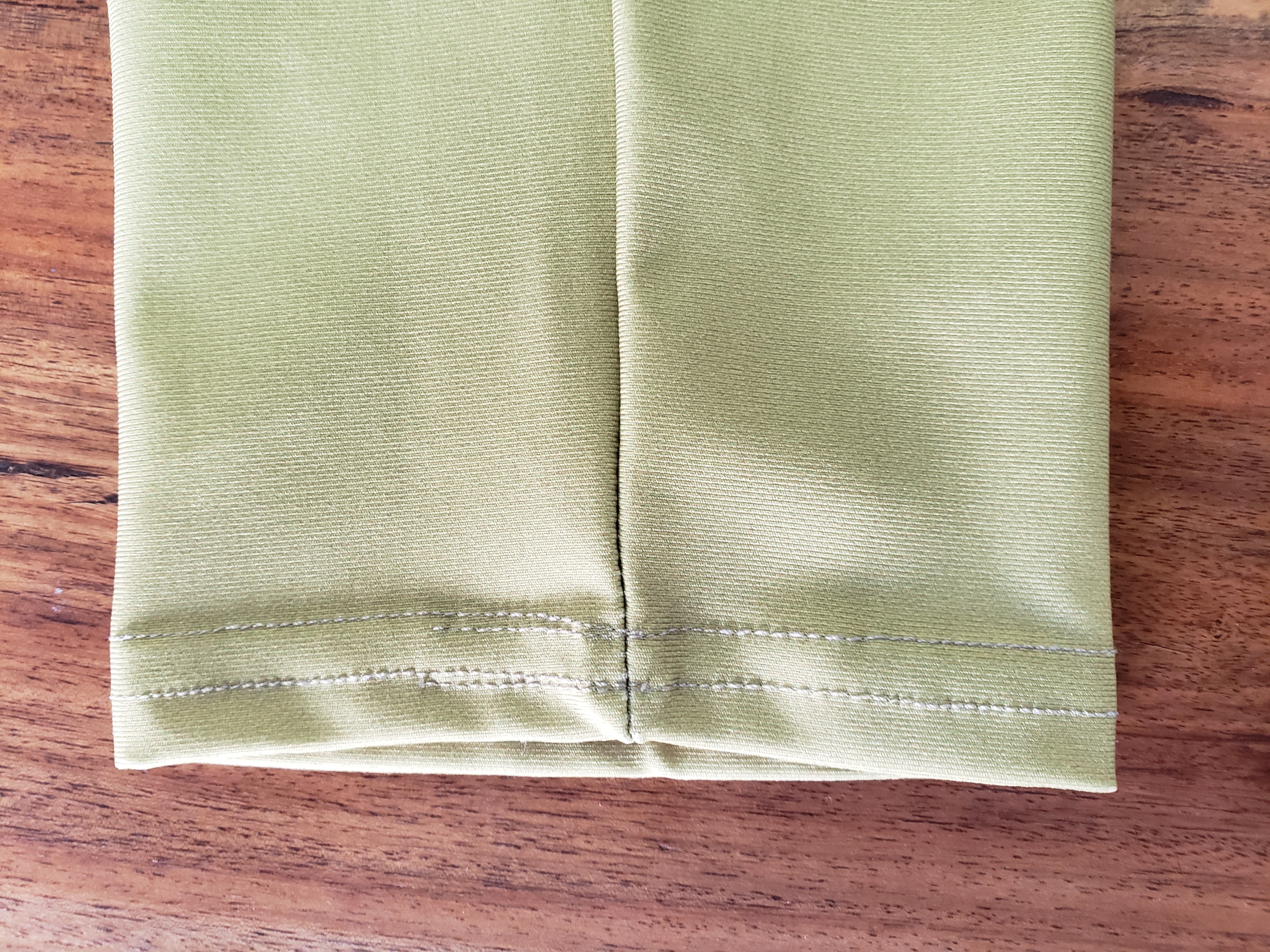 Here we have overlapped coverstitching that would not pass quality control.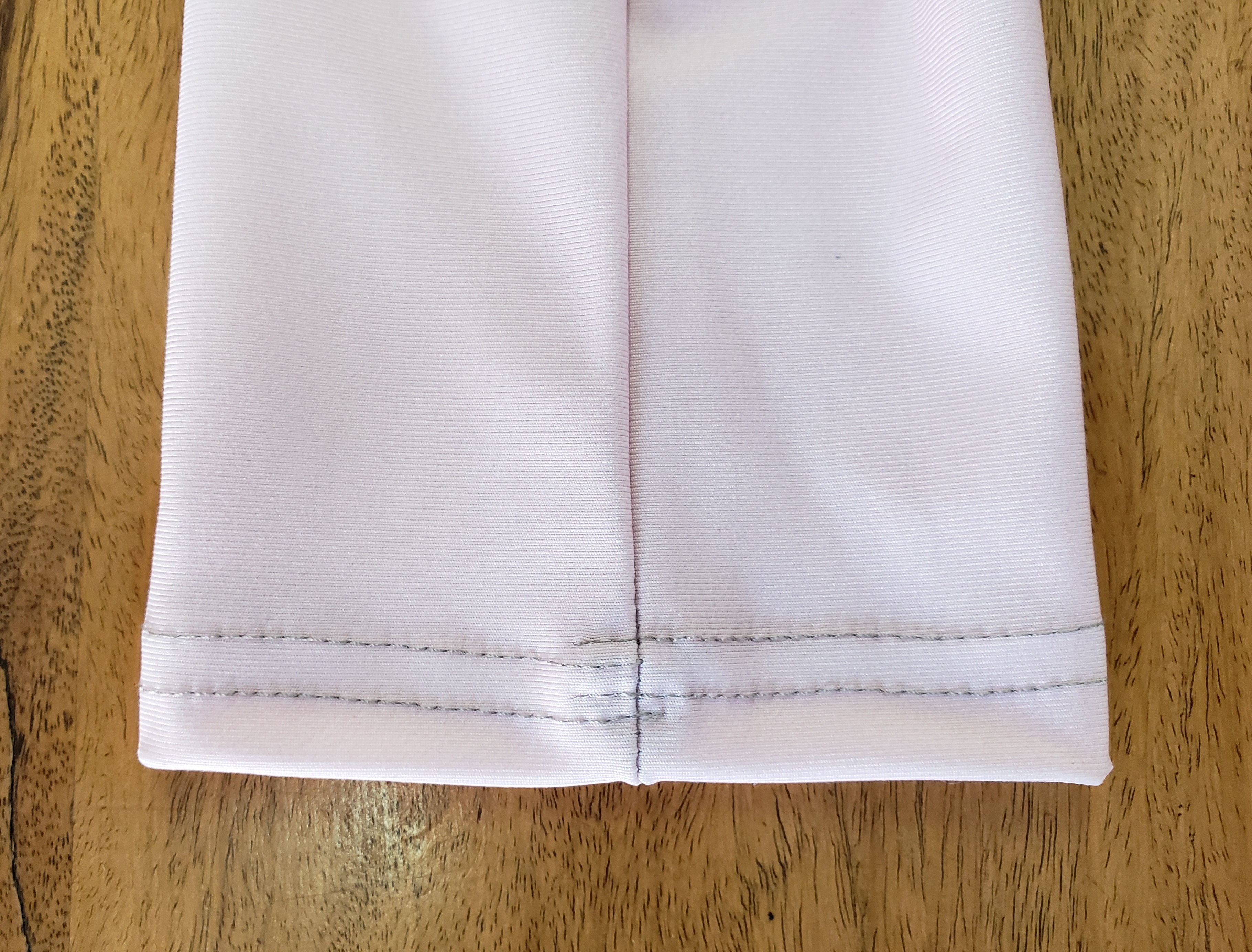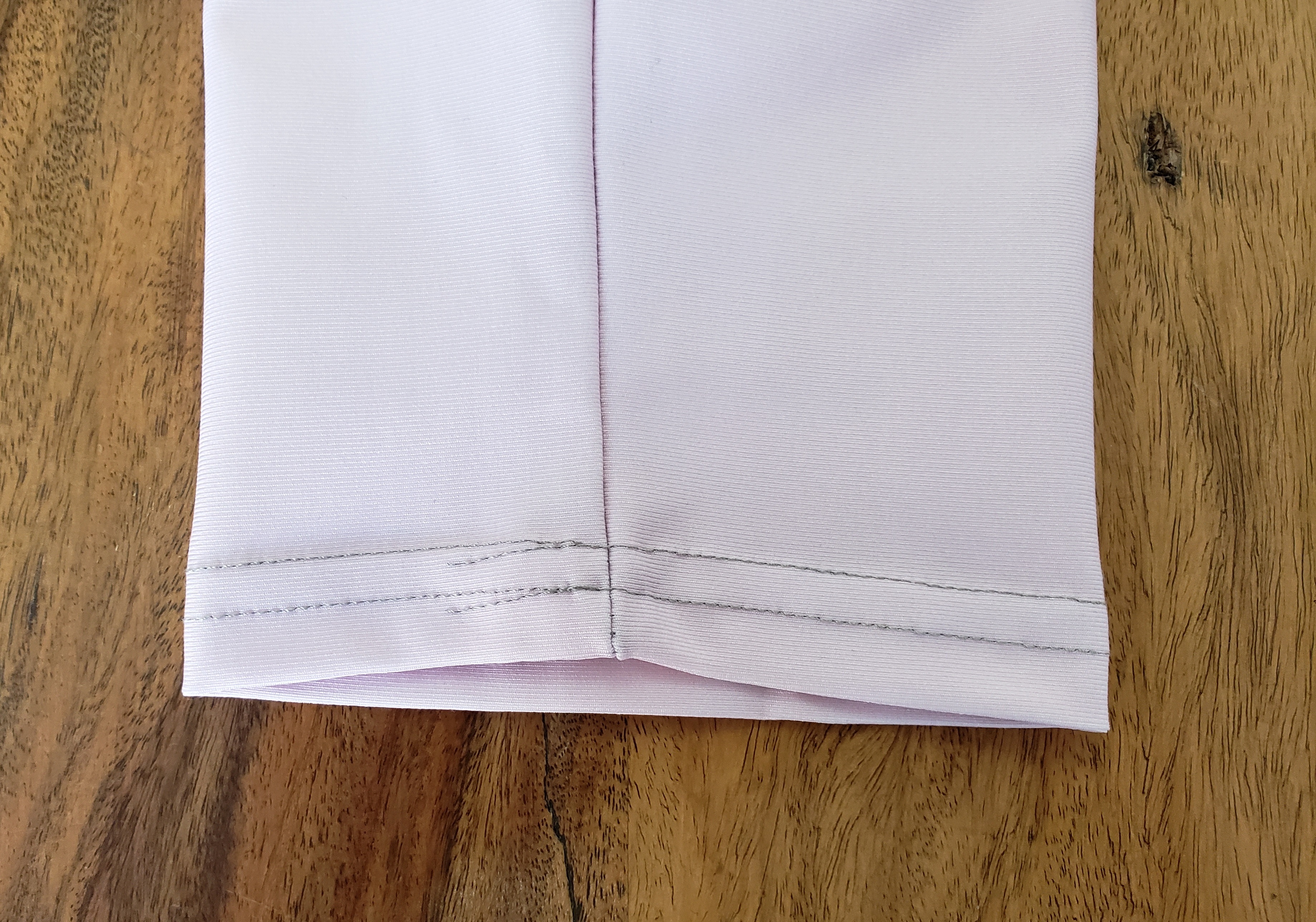 If you see a line and/or some white poking through at the seams, it's likely the pattern guideline and it shouldn't be visible. We can check this by looking at photos of your product and comparing them to the print file.
We stretch the leggings at the waistband, crotch and ankles to make sure the stitching is secure, and that we don't see any odd lines or gaps that shouldn't be there. The below pair would not pass quality control.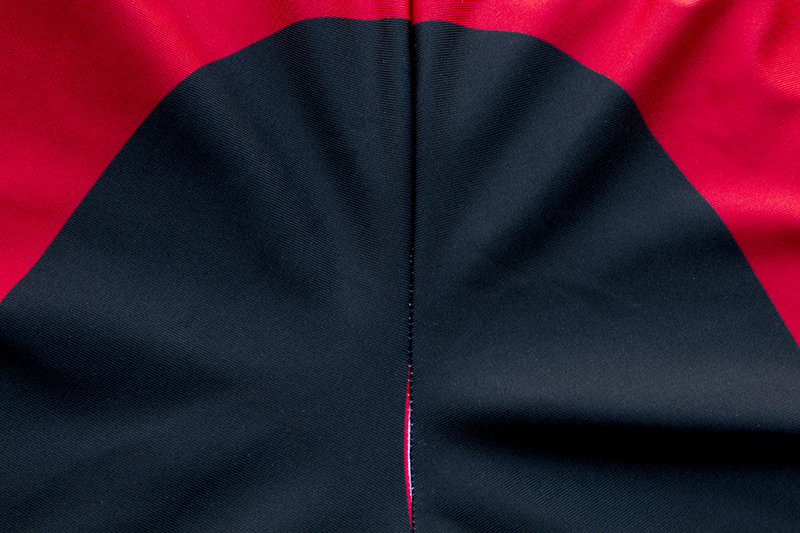 Our yoga leggings are unique in that they are made from 2 different fabrics. The legs are made of our perfomance spandex (88% polyester, 12% spandex) and the waist band is made of our swimsuit knit (72% polyester, 28% spandex). Because of this combination of fabrics, each with a different spandex content, you will see some gathering where the fabrics meet. This is normal and once worn, will not be evident.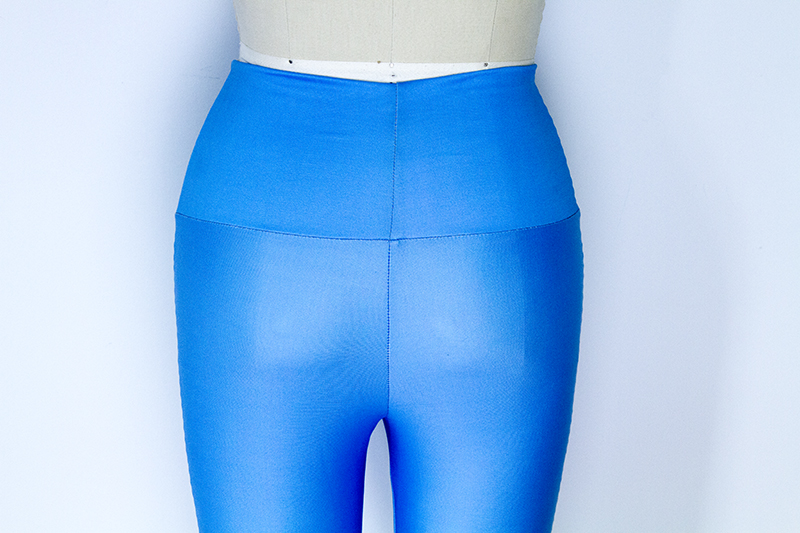 Our mini shorts will also show what looks like an uneven waist line when laid flat. This is because the waist line curves up a bit, to be higher in the back when worn.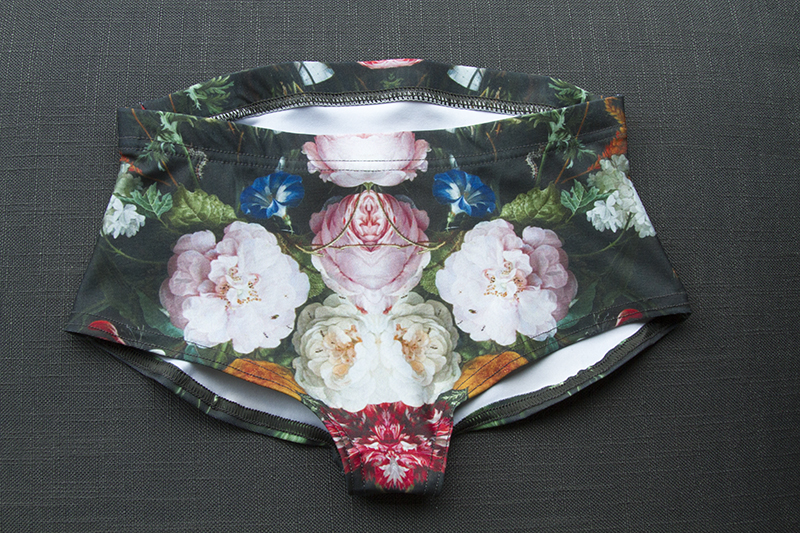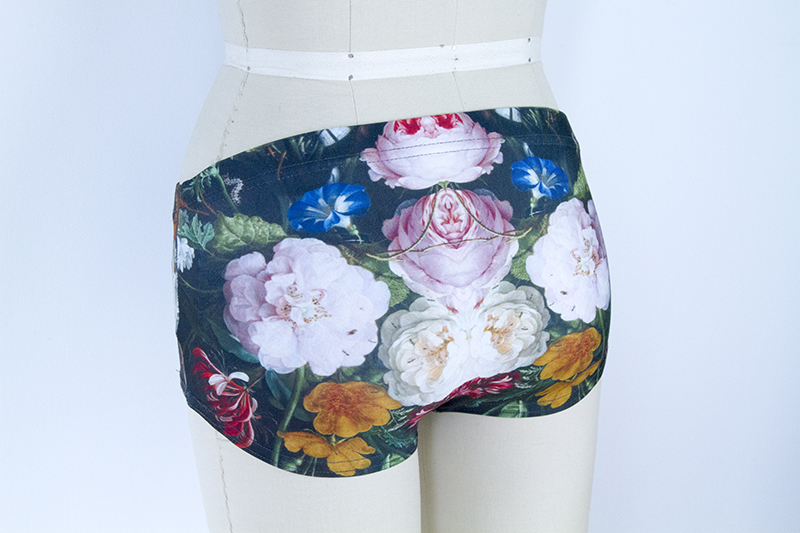 Scarves
Our scarves have a machine rolled hem with a high stitch density for a polished look. Below are examples of the hem, including the 4 different thread colours we use.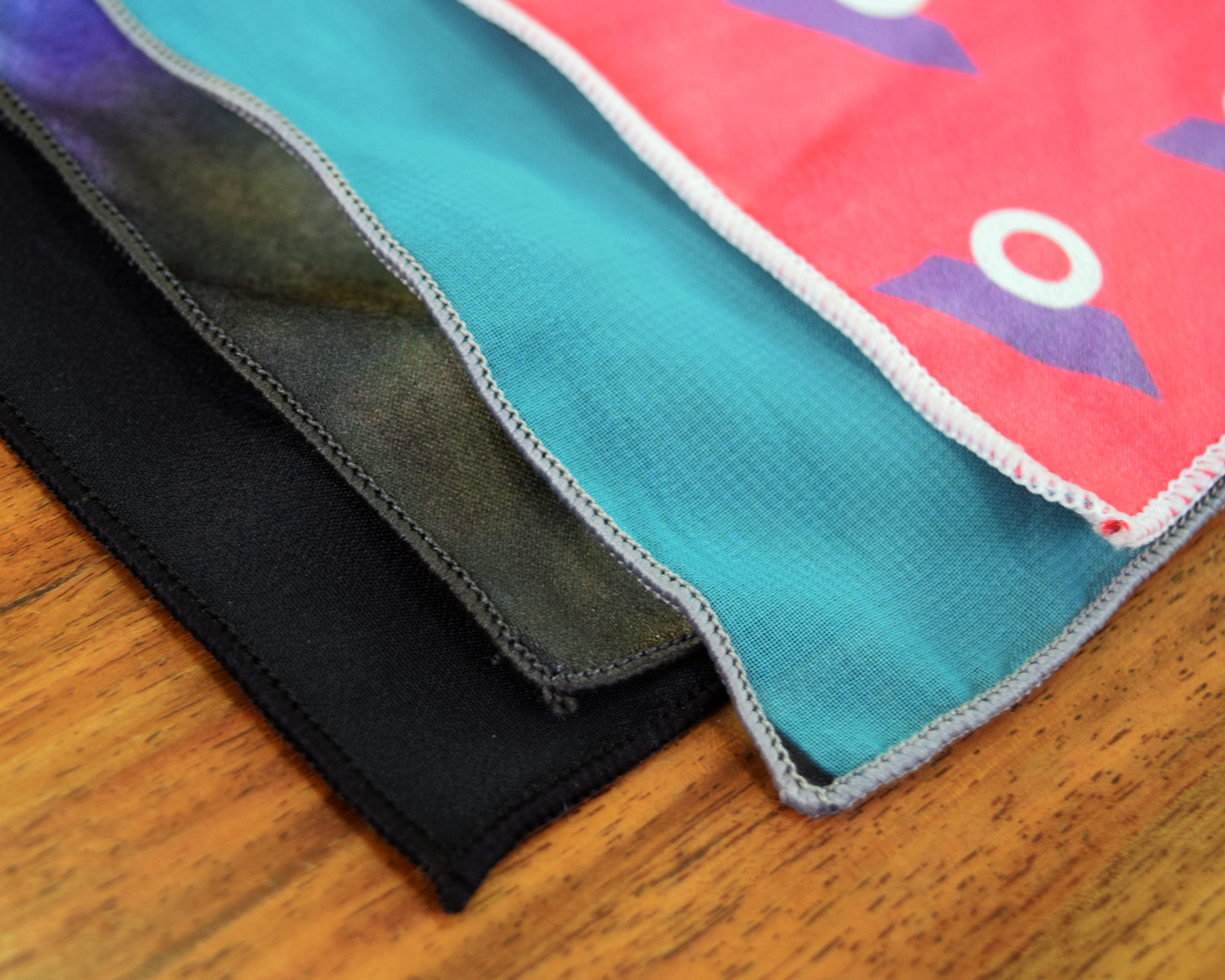 Your finished scarf may be slightly smaller than the template size, due to the seam allowance. To avoid any issues, like a logo or word being cut off, just make sure to keep your important design elements away from the red border in the design lab. In the picture below, you can see text well placed on two scarves, and then in the last you can tell it went over the red border in the design lab as it is a bit cut off at the end.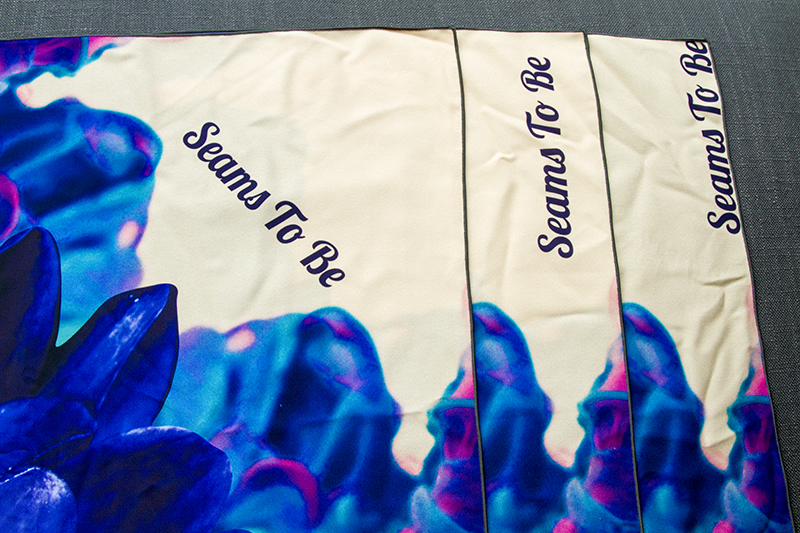 Pillow Cases
Our pillow cases can be printed single sided, with a solid colour on the back or double sided with the same image on both sides.
Pillow cases are not flat squares or rectangles. As you see when you design them, the template is curved. Once sewn you may see a small amount of puckering by the zipper, or a bit of a ripple along the edges. This is to be expected and will not be evident once the pillow case contains a pillow insert.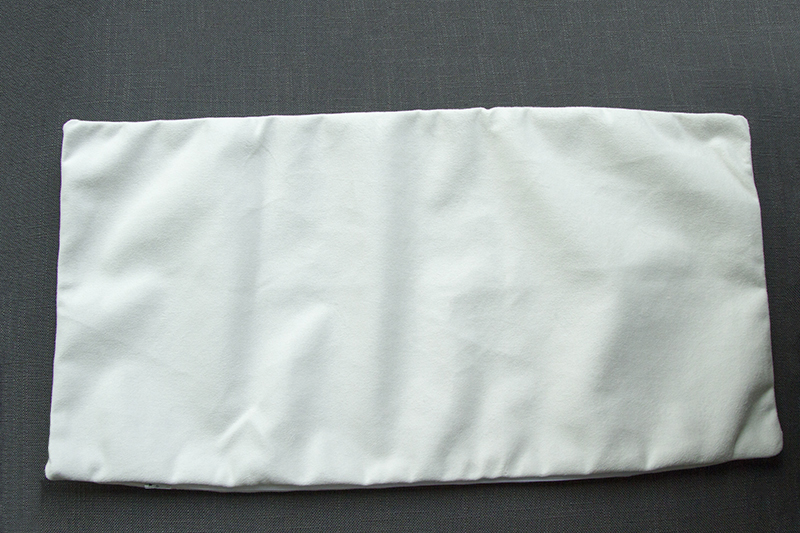 We're always going to be adding more products, and more pictures to this post! Any time you have questions about a product received, check out our terms of service, our help section, and this blog post to see if your concern has already been addressed. If you believe your product needs to be reviewed, please send your order number and photos clearly showing your concerns to [email protected]
Also, we're finally getting on the Youtube train for real! Check out our first video and let us know in the comments what product you would love to see us talk about next!