Setting up Shipping in Integrations
Figuring out shipping can be the toughest part of running an online drop shipping business. For those of you using our integrated drop shipping service, we've gone through the worst of it for you!
Etsy
When you're using the Art of Where integration with Etsy, the shipping costs are imported when you sync products. The wood prints and canvases are priced a bit differently, because shipping costs change quite a bit from the smallest wood print or canvas to the largest. We can't integrate different shipping prices for product variants, so each size of wood print and canvas syncs with same shipping cost but the price of the product is increased for the larger sizes to make up the difference.
To see the shipping costs in Etsy, go into the listing of your choice and scroll down to Shipping. Click on the product type to see the cost.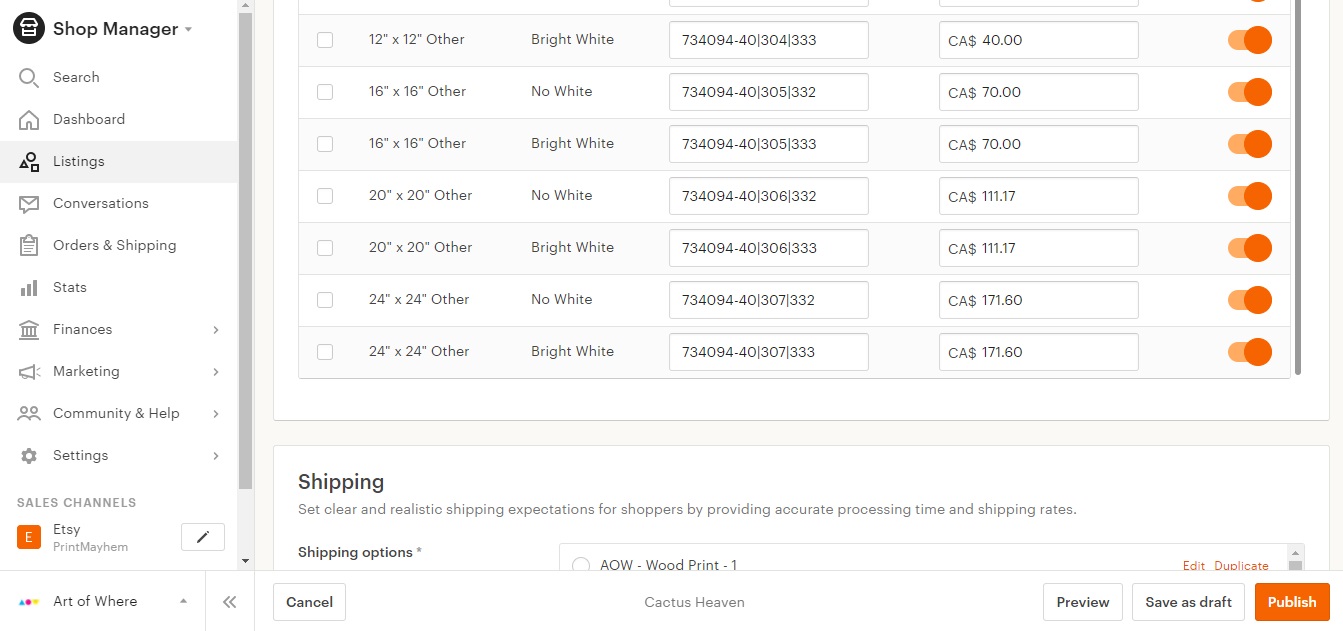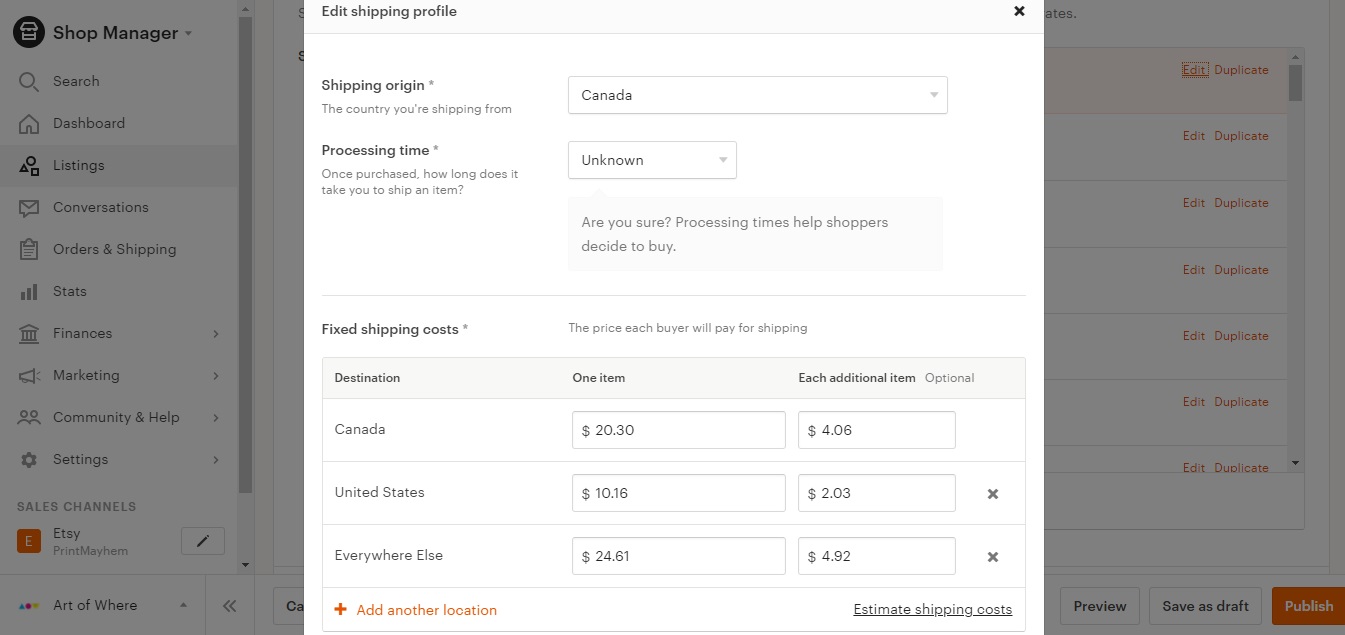 Shopify
Shopify shipping options change drastically depending on the plan you have. Art of Where's shipping costs for Shopify users stay the same, no matter the plan. We calculate shipping for Shopify orders by the total value of the products being ordered from Art of Where. For example, if your customer orders 10 pencil cases from you, at 10$ each, the Art of Where cart value would be 10 times the drop ship price of a pencil case (10 x $7.50 = $75). As per our Shopify shipping chart orders between $50-$100 cost $9 to ship within the USA. We would charge you $75 + $9.
What you charge your customers for shipping in your Shopify store is up to you. With the the cheaper plans, you can't have different shipping schemes for different products or for the different companies drop shipping your products. This leaves you a few options. You can choose to increase your product prices to include shipping (i.e. offer free shipping to your customers), offer a flat rate for everything or use the exact same cart values that we do.
To see where to enter your shipping costs, go to settings in the lower left corner of your account.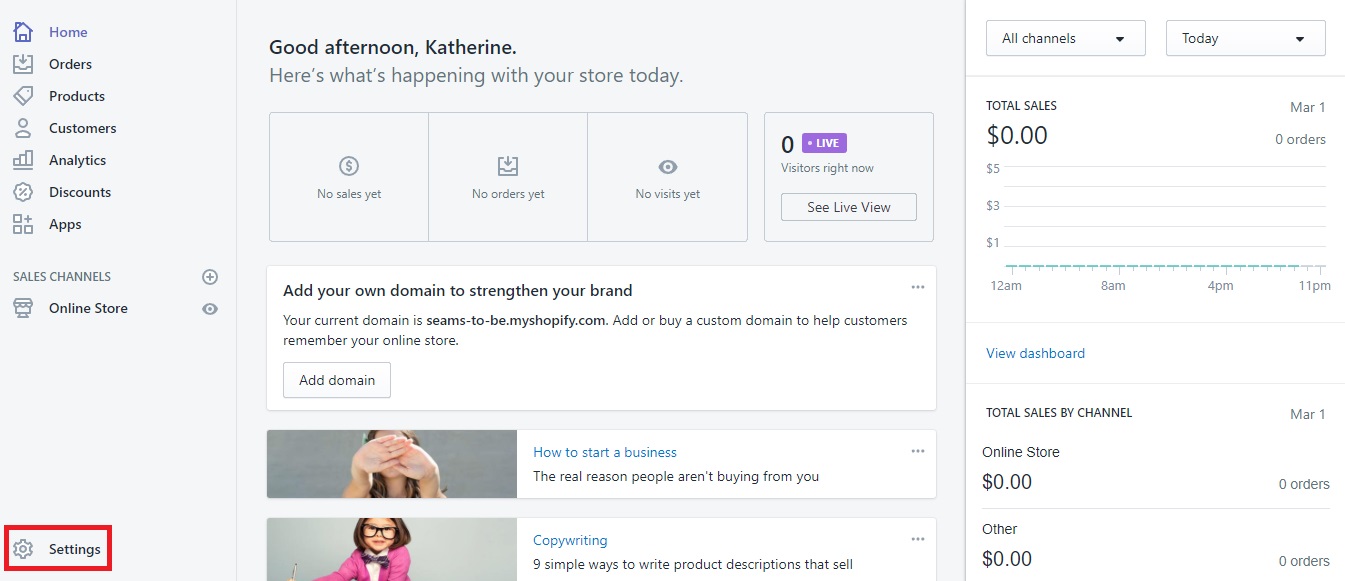 You'll see all your settings options in the middle of your screen, and shipping is at the bottom of the first column of options.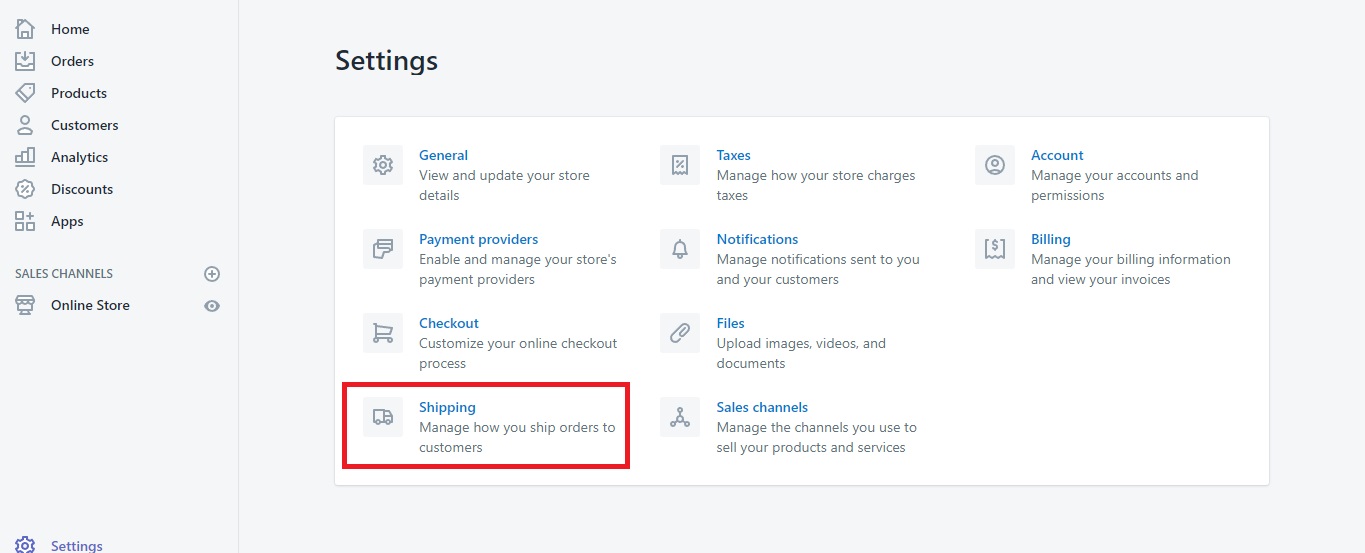 Once you're in your shipping settings, you can add your shipping prices. In the screenshot below, you can see what it should look like if you've used our shoppping cart value shipping scheme.

You don't need to add in any package weights or dimensions, and you can enter your own address in the "shipping from" field, as that address is only used when shipping rates are being calculated and labels created within Shopify itself. When using our integration, we are doing all of weighing, packaging and labeling for you, so you really don't have to worry about those details. You just need to make sure you have the correct shipping information from your customers, so that our shipments will be successful.
Big Cartel
Each time you create a product listing in Big Cartel all of the details for your product must be entered manually, including the shipping cost. You have to enter the shipping cost for the item alone, and the shipping cost for the item with others (for when that item is added to an existing order or the order is for more than one of the same item).
When there are multiple items in your Art of Where shopping cart, for example a wood print, a pair of leggings and a phone case, we will consider the wood print's shipping price as the base price since it is the heaviest item, and would cost the most to ship alone. To cover the cost of shipping the leggings and the phone case, we charge 20% of the base price for each. You can do something similar on Big Cartel, and calculate 20% of the shipping alone cost you entered, and enter that number for shipping with others.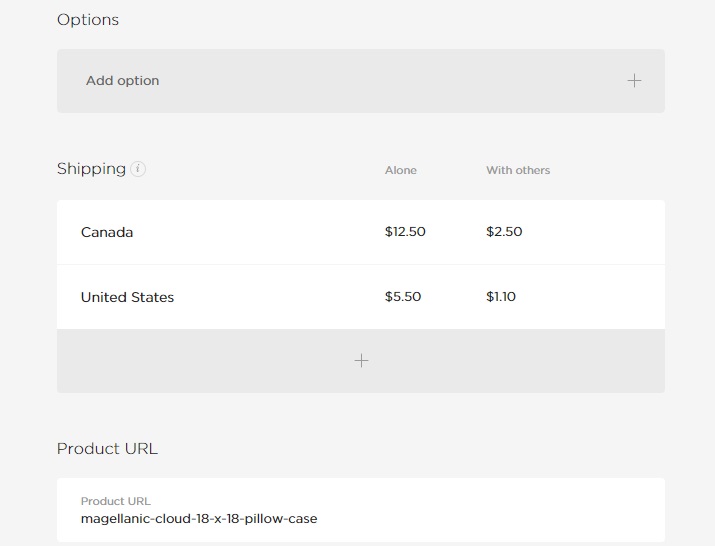 How you charge your customers for shipping is up to you, as no matter which way you go, we will be charging you our usual shipping costs as listed on our production and shipping page.
At the moment, we don't have upgrades online, so if a customer of yours is interest in getting their product faster, or sent internationally by courier or with a tracking number, just send us an email with the order information and we'll look into your options for you!
Let us know if you have any questions about shipping, we'll be happy to clarify anything you're not sure about.