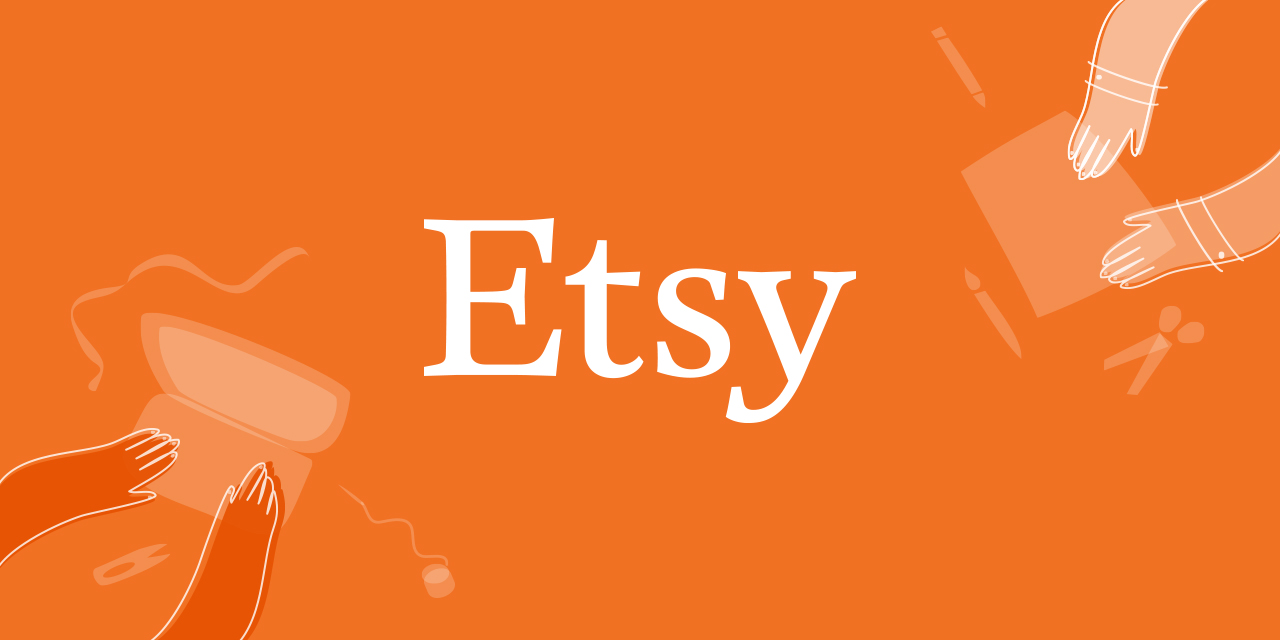 Etsy is probably the most well known online marketplace. This is obviously a huge draw to sellers, and yes, you can have an Etsy store when a manufacturer like Art of Where is making the products you are selling! To learn more about what you can sell on Etsy, click here and also make sure you read the seller policy.
The Price
You do have to pay to list products on Etsy (0.20$ USD or 0.25$ CAD), and they do take a percentage of each sale (3.5%). What you really need to consider when setting up your shop, among other things is; do you know your market already? Have you done your research into pricing your particular product? When you're paying for a service like Etsy or Shopify, you really have to do your research and make a plan, as this will hopefully help you avoid spending your hard earned money on listings, and then not seeing the sales you were aiming for. There are many blog posts that do a really good job of explaining how to start out, the pros and cons etc, and the Etsy site has amazing resources as well. We definitely suggest checking them out!
Blogs:
5 Things to Consider Before Opening a Shop
Etsy:
7 Steps to a Successful Start on Etsy
Top Ten Tips for Starting an Etsy Business
The Look
Etsy shops all look the same in terms of format, but you can add your own custom banner to your store. Since website design is out of the equation, you need to have great pictures that will stand out from all the other shops when a person has done a search for a given item or is just browsing through the shops.
Etsy puts a lot of emphasis on the seller adding quality photos of their products, and rightly so! It is the absolute best way to draw people in. Art of Where does provide mock-ups of the products that you can download and post to your store and on social media, but having actual pictures of the products is ideal. You are always welcome to order products to yourself at the drop ship price, so you can snap some great pics of your designs in action!
Adding Products
Adding products you've designed on Art of Where to your Etsy account is simple! You can check out our comprehensive guide to Etsy integration here. Our mock-ups are added automatically and you can upload any product photos you've taken, the size guide etc. After that, there's the product description which is added during synchronization and then a series of easy to complete drop down menus where you will add in information such as listing preferences, colours, size options and so on. You can get an idea of what it looks like from the screenshots below.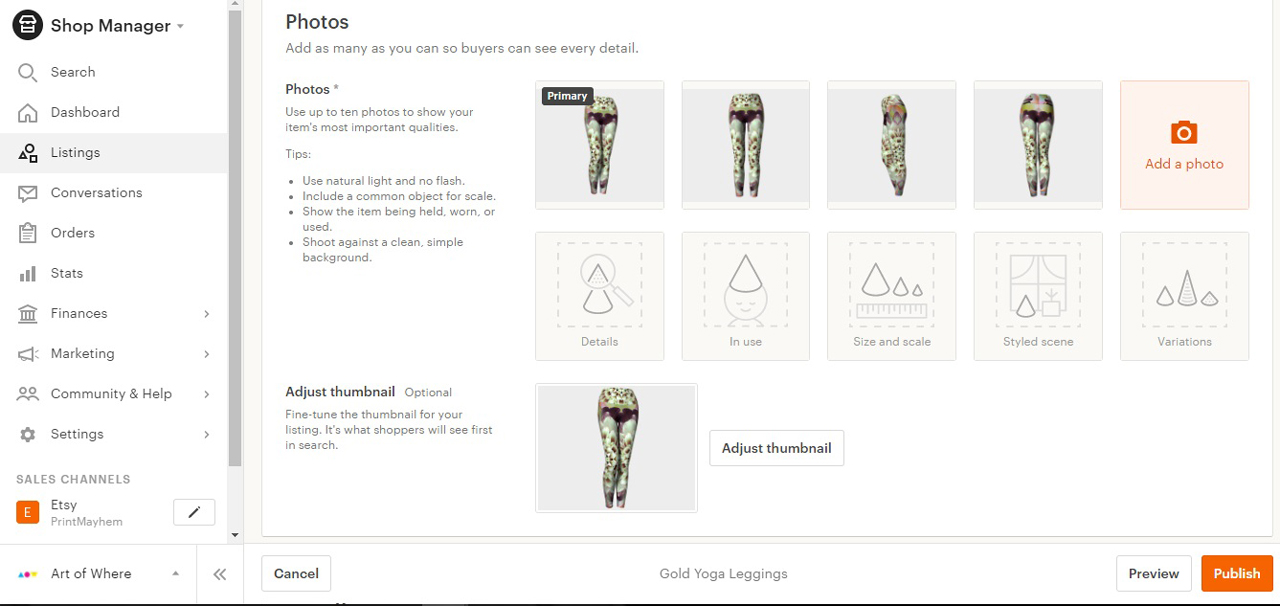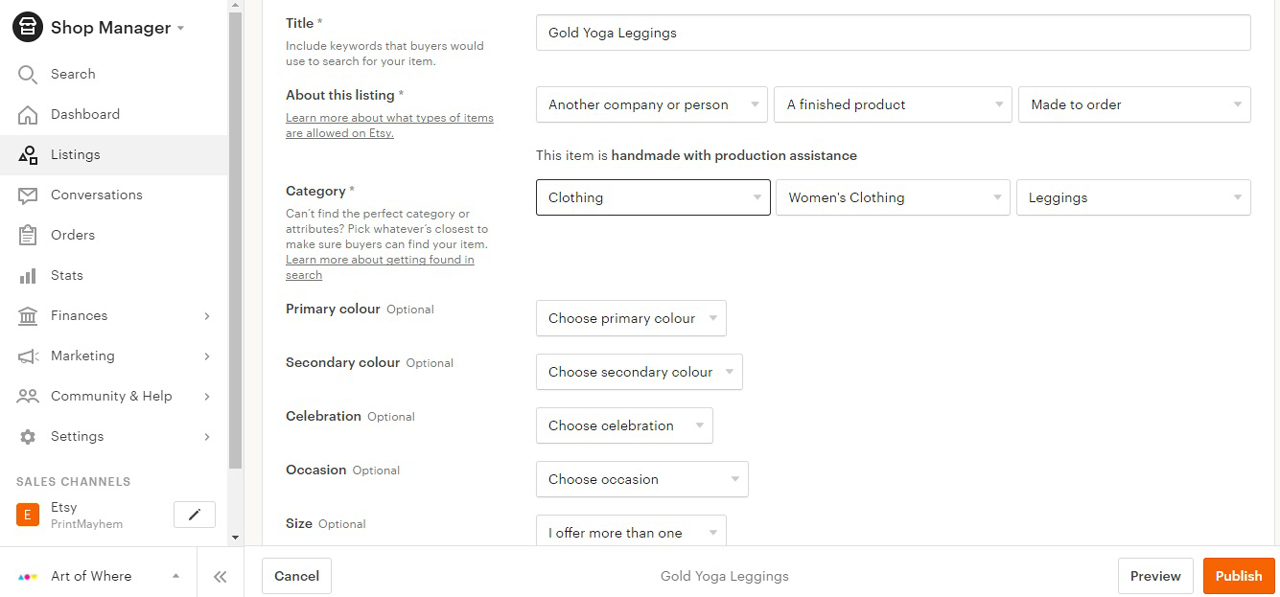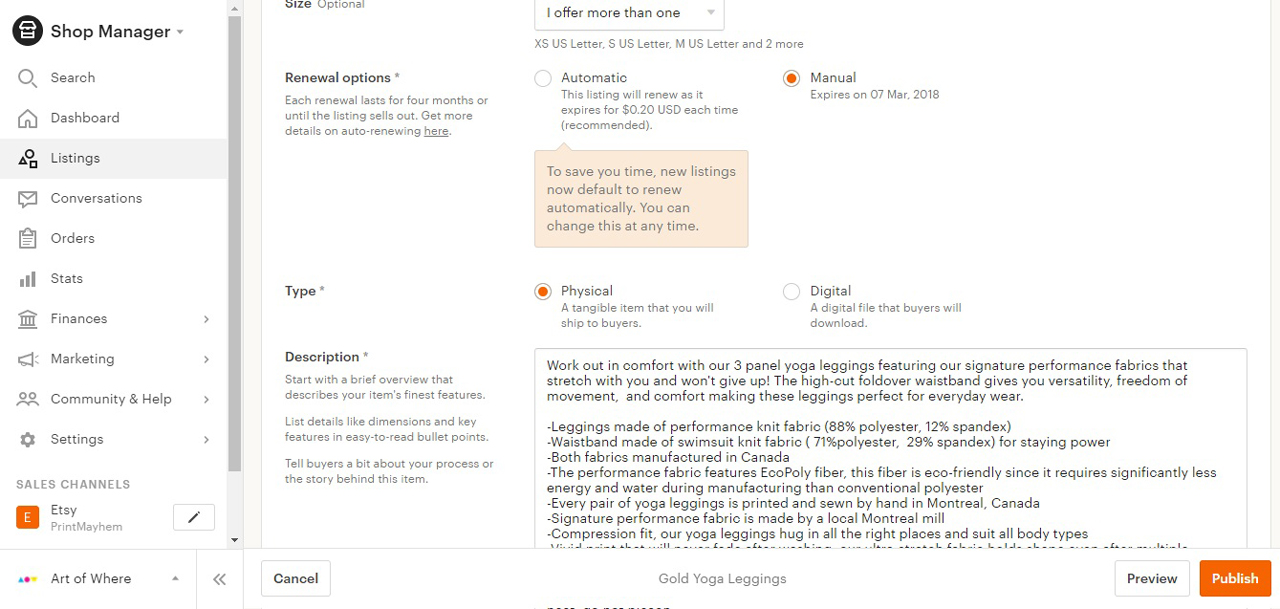 Neat Features
The amount of articles on how to be successful on Etsy, provided by Etsy, is astounding! The site itself is full of resources that will help someone get started, or help improve shops that are already active.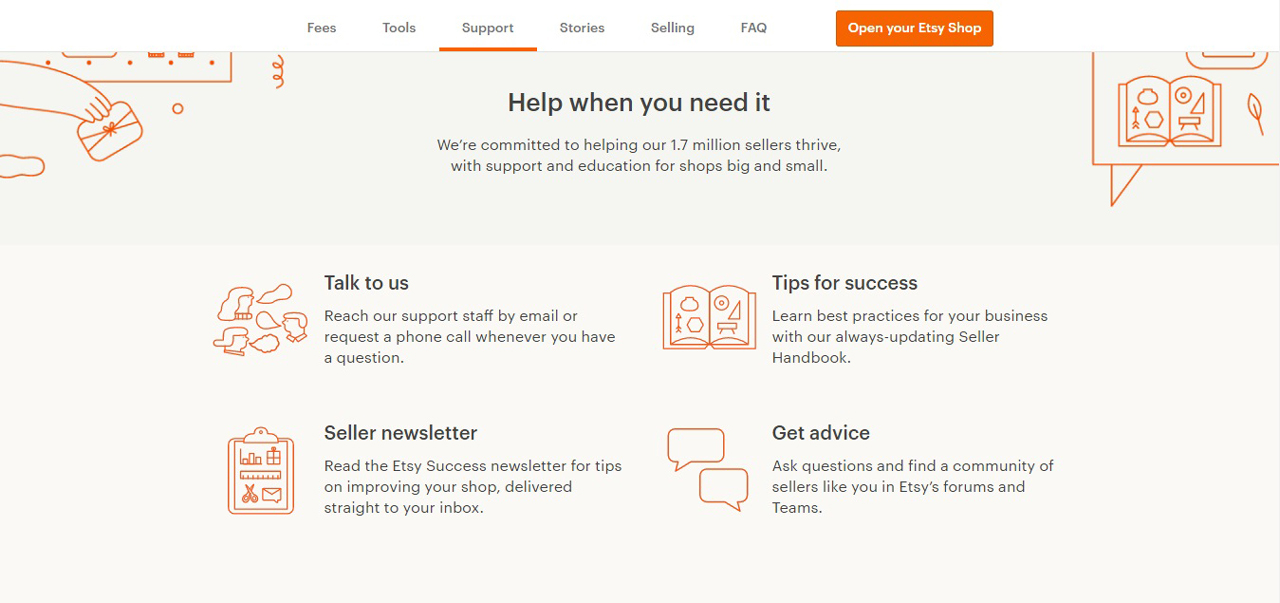 Along with all the information Etsy has for you, there's a wealth of tips and tricks to be gleaned from the Etsy community. There are Etsy Teams which are groups with members who may be from the same country or town, or selling similar creations, and there are forums. If you want thoughts and opinions from people who have experience, groups and forums are the perfect resources for you.
It's great to be part of a larger community, and being part of a marketplace is really fantastic! One of the ways to get customers to your store is by adding tags to your listings to improve your chances of coming up in a search. If I search for "leggings", I get over 73 000 listings! If I narrow my search and type in "death leggings", the result drops dramatically to 93! You can enter 13 tags total, so make some general and some specific.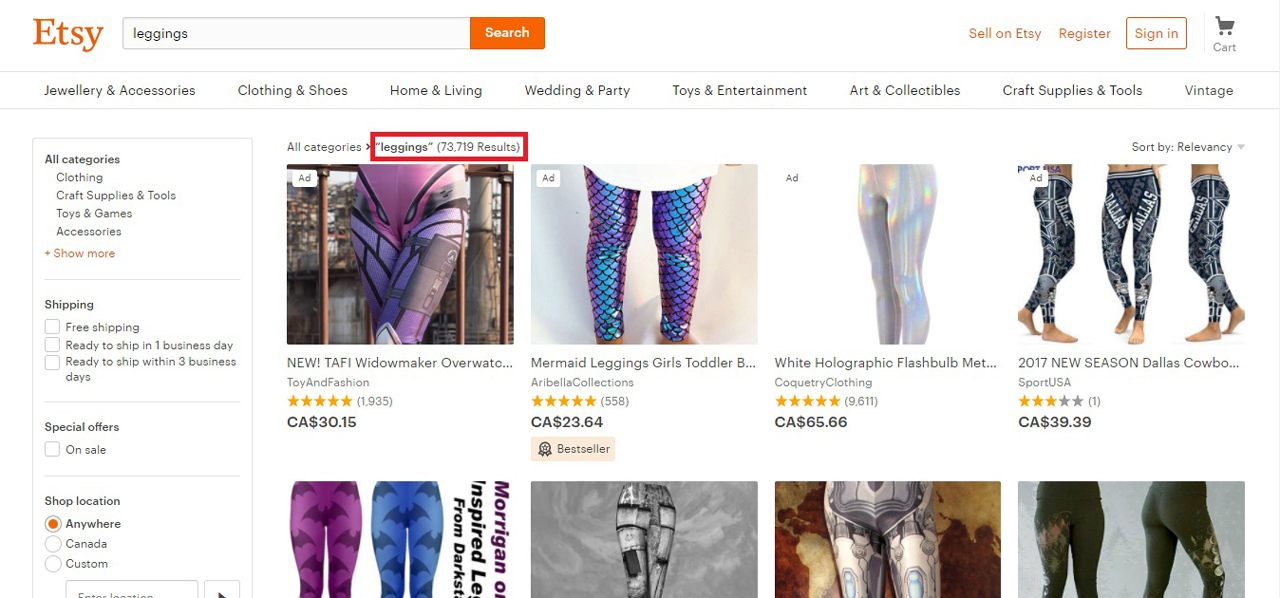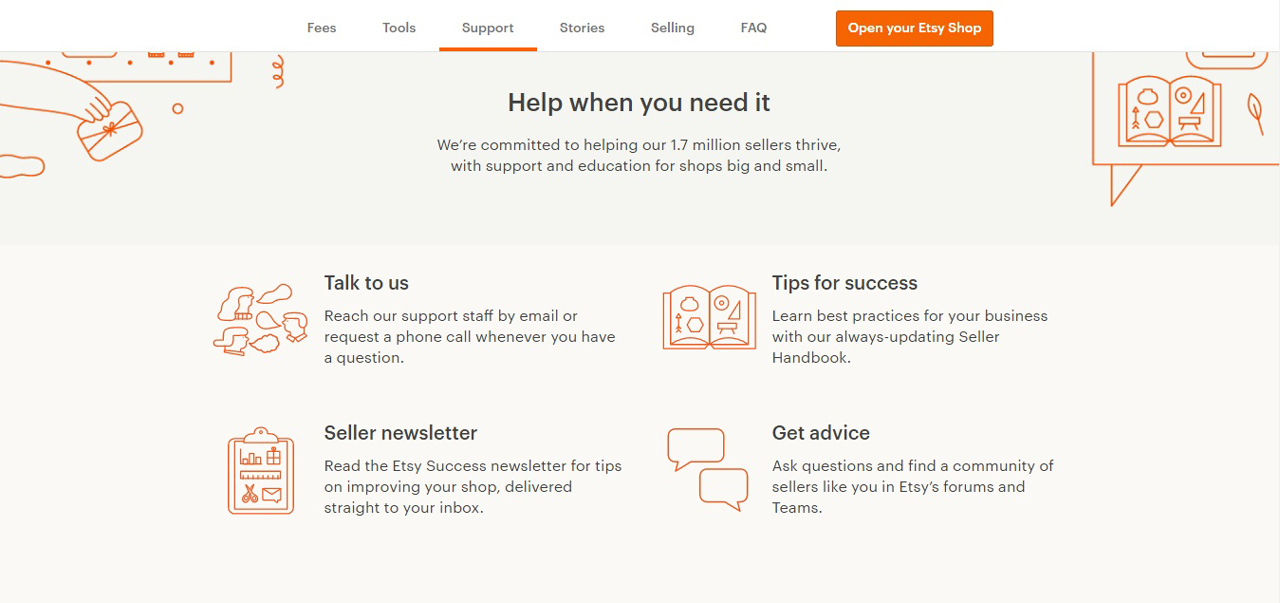 The Etsy shop manager gives you a bunch of amazing tools to use. Everything you need is right there. No searching in different places, getting lost or contacting customer support to figure it out. Among other great tools, you've got the dashboard which gives a great overview of orders, listings and visits. You've got conversations, all your customer communication, and you've got your marketing options, all easy to find.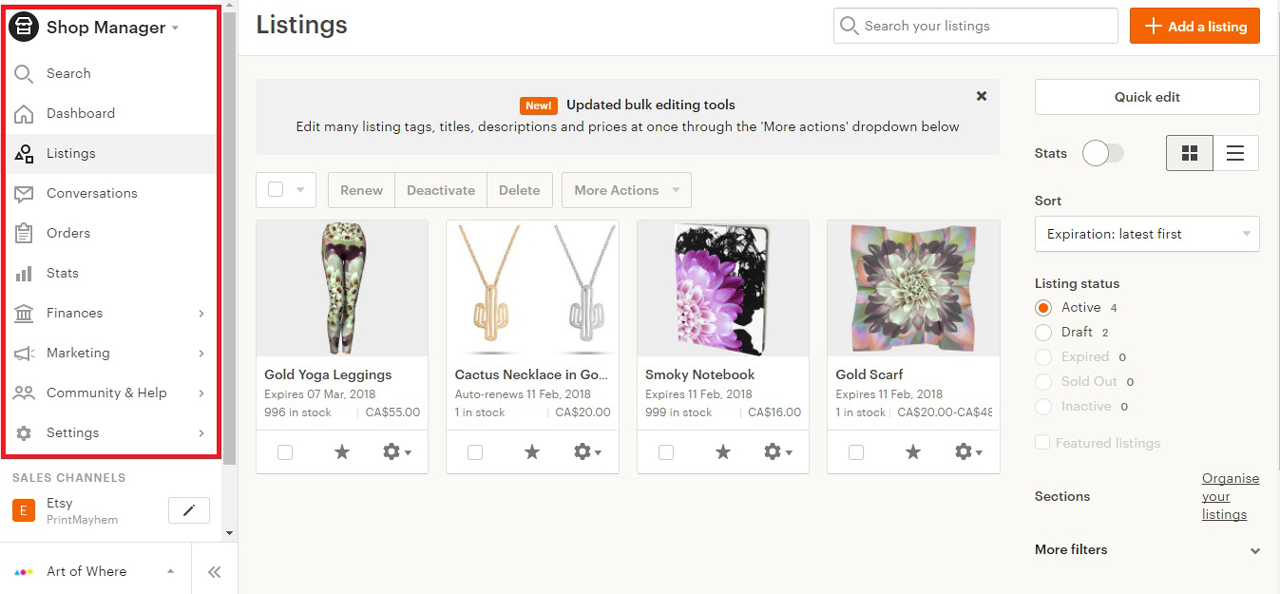 If you are ordering wholesale and are doing your own shipping, you can offer gift messages to your customers. They'll let you know what message they would like the receiver to get, and you can add it in to the package for them. We're hoping to be able to offer this service for drop shippers in the future!
If you have questions about Etsy integration, check out our guide or contact us. Have some Etsy tips? Share them in the comments below!